Monthly Archives:
November 2012
The recent economic crisis has severely affected many of the employment areas. The medical field however is still flourishing. Medical Assistant is one of the most demanding and promising career in the medical field. So if you are in search for a new career or a fresh out from high school, try considering the career as a medical assistant. But first you need to complete a formal training from an accredited medical assistant school.
Medical Assistant Schools
Throughout United States, there are several private as well as public institutions that offer medical assisting programs to the students. Students can choose from a range of degree options that includes certificate or diploma programs or the associate degree programs.
What are the different programs offered by such schools?
1. Certificate Program
These programs are especially designed for those people who want to enter the medical assistant career as soon as possible. The program lasts for about 9 months during which the students learn:
To collect and prepare laboratory specimens or perform basic laboratory tests on the premises
To dispose of contaminated supplies and sterilize medical instruments
To prepare and administer medications as directed by a physician
How to instruct patients about medications and special diets
How to draw blood and give injections
To take electrocardiograms and change dressings
To use computer to record patient's health/test reports
Courses offered
Study Skills
Anatomy, Physiology and Terminology
Computer Basics
Math Fundamentals
CPR and First Aid
Office Management
Introduction to Insurance and Coding
Examination Techniques
Clinical Aspects of Coding and Billing
Surgical Procedures
Pharmacology
Medical Law and Ethics
Medical Specialty Procedures
Communication
At the end of the program, there is an externship which is a great opportunity for the students to apply their learned skills and techniques in a real life setting, thus help them gain work experience.
2. Associate's Degree Program
This program prepares individuals to assist medical providers by performing administrative duties and basic clinical duties in a medical/clinical setting. The program combines hands on training in core technical skills with general education that will enhance your ability to work in diverse settings.
The program can be completed in less than two years of full time study. During this time, students learn a range of supplementary medical tasks such as:
Drawing blood, Urinalysis and collecting laboratory specimen
Analyzing and testing the specimen in a laboratory
Medication administration, Bookkeeping, charting and X Ray placement
Dealing with patients and describing them their medical condition
Preparing patients for the medical procedures
Handling telephone calls, recording data onto a computer database
Medical office management
Courses offered
Medical Practice
Medical Law and Insurance
Laboratory Procedures
Patient Care and Preparation
Medical Records
Physiology, Anatomy and Terminology
Physical Therapy
Radiology
Pharmacology
Computer Basics
Infection Control and Safety Measures
Communication
Online Option
Technology has made it possible to earn the certificate or associate degree in medical assisting from home and at our own pace. The online option is especially for:
Those who have a busy schedule and cannot attain a campus based training program
Individuals who have a family to take care of
Those who are planning to work alongside earning the certificate or the degree
But one should not forget that the term online does not mean that the program is completely online. Only the didactic component of the course is presented via online means. Since the training program is practical based, the practical component of the program is presented in a clinical setting.
There are several sites as well as private and public institutions that offer online training program in medical assisting. But make sure that the online program you are looking forward to join is accredited by a recognized agency.
Licensure and Certification
Certification boosts job prospects for medical assistants. That is why upon completion of the training program, the students must take and pass a national examination to receive licensure.
Several organizations offer certification such as The American Association of Medical Assistant which awards The Certified Medical Assistant Credential and The American Medical Technologist that awards The Registered Medical Assistant Credential.
Applying into one of the Medical Assistant School
Step I: Complete the prerequisites
Before applying into any of the medical assistant school, you must satisfy certain requirements and prerequisites.
First one is the age limit. The applicants are required to be at least 18 years of age.
Next is the academic achievement. You must hold at least a high school diploma or equivalent GED. A satisfactory GPA of at least 2.5 is required with grade C or better performance on subjects like math, science, health and English.
 Another one is to have a clean history. The students must undergo a criminal background check and a drug test. They need to pass these tests.
Next, the students are required to provide evidences showing that they are in good health and that they do not have any contagious diseases.
The online students need to have basic knowledge on computer and internet. They need to be good at time management and should be self motivated.
Finally, the students are required to have certain interpersonal skills. The field demands excellent communication skills with an ability to deal with every type of people.
Step II: Choose a Medical Assistant School
There are a number of options available when it comes to joining a medical assistant school. So choosing the right one may look like an overwhelming task. Below here are some guidelines that will make your search easier and thus help make an intelligent decision.
How do I apply for medical assistant schools through your site?
Don't Worry. We are here to make your work easier. Now you don't have to visit the school to fill your form. You can simply do it online here.
At the top of the page you can see a search box.
Fill up your postal Zip code and will be send to a page that contains school listing that are situated within your area.
Choose a school and fill up the necessary information.
You won't be charged any fee to fill up the form.
OR
You can also find various school listing below the page. Choose a school, Request Info and you are set to go.
How to select the right medical assistant school?
Give enough time for the search.
Locate the training schools at your area that offer medical assisting programs.
List out all these schools and categorize them based on their length.
Cut out those which do not offer the degree option you are looking forward to join.
Collect enough information about each of the schools that suits you the best.
Make sure that the program offers internships or externships during or at the end of the program.
Check its background, reputation, past results and feedbacks from students and professors.
Determine whether the school offer financial aid options. What are the student aid programs and does it covers the total cost.
Visit the college premises personally and if possible attain an interview with the program director.
Do you feel comfortable with the staffs and the faculty members?
Make sure that the instructor is qualified and experienced enough to do his work.
The online sites or institution needs to have a technical support group available 24/7.
Step III: Submit an Application
Now that you have selected your medical assistant school, nest thing you need to do is submit an application. Remember you need to pay for that application. But first read out the descriptions properly.
Next fill out the form with valid information and submit it along with the transcripts and other asked documents.
Apply into one of the student aid options offered by the institution or the federal government at your state as early as possible.
Calculate the total cost and determine whether the student aid program can cover it or not. If not then find an alternative such as private student loan programs. Just make sure that the financial issue will not come between you and your education when you are midway to the training program.
You may have to attain an interview with the program director or instructor so make sure that you are well prepared to attain one.
Upon acceptance, a college staff will contact you and will give you additional information.
The Bottom Line
If you are caring and compassionate and want a career that can be both personally and professionally gratifying then Medical Assisting could be the right choice for you. The job security, income and opportunities are all promising. So what are you looking for? Go join an accredited Medical Assistant School right now.
What are the educational requirements prior to get admitted to a carpentry school?
The educational requirements that you have to follow prior to get admitted are:
You must be a US citizen and have completed 18 years of age.
You must complete your high school and have a high school diploma.
You should not have any criminal record or any illegal background.
You must complete drug screening test, and other simple medical tests.
You will be also judged on your reading and writing English abilities.
Simple  technical knowledge about the field such as safety practices during work, use of simple carpentry machines etc are also essential.
How to become a carpenter?
Step 1: Complete the prerequisites.
If you want to become a carpenter your journey should begin as early as from your high school. You should take subjects such as drawing, math's, shop, algebra, geometry, mechanical drawing, physics, blueprint reading in your high school. You should also complete all the educational prerequisites mentioned above
Step2: Complete the Apprenticeship training.
Search for the Apprenticeship programs offered in your areas. Such type of programs are offered by large construction based companies or also by some established schools or organizations.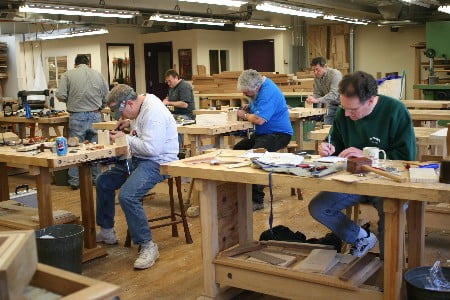 How long it will take to complete my Apprenticeship training?
It will take you about 2-4 years to complete your training. In each year of your training period you have to complete at least 144 hours of technical training and 2000 hours of practical training.
Step 3: Get some formal training through some vocational or trade schools.
After completion of the apprenticeship training you will be awarded a certificate as a journey person. You may now get a job or continue further education. If you wish to get further degree program, your next destination is schools that offer such program to offer you a degree of carpentry. You can get a certificate, associate or a bachelor's degree.
Can I complete my Carpentry classes online?
Yes, if you are a busy person or if you have problem attending to ground school, online schools are the best options for you. Yes it's a rare case to find online schools in carpentry, but here at onlineclas.com we have listed many schools that offer online courses. Grab the best opportunity.
Step 4: Get involve in some internship programs.
Step 5: Work as a carpenter.
What are the parameters you have to look for before joining any carpentry schools?
Research for good carpentry schools around your area.
Look for the course and curriculum the college is offering.
Look for the practical sessions the college is offering.
Quality of teacher matters a lot.
Always go for established institution.
Remember costly tuition fees and education is not the key always.
Seek an expert advice or advice of the seniors who are already studying there.
What are the different degree programs offered by such carpentry schools?
1. Certificate in Carpentry
As a entry level you can go for a certificate in carpentry degree. Remember this is just a entry level, and you still have to join a further degree program. A high school degree is required to enter certificate level. The duration of the certificate course is 1 year.
What are the subjects you will be taught during your certificate level?
The program coursework includes:
safety
framing
construction methodologies
cabinet making
interior design and finishing
estimating
blueprint reading
2. Associate's Degree in Carpentry
This degree program are intended for those who want to start their career as a finish carpenters, home remodelers, woodworkers or as framers. The course duration is 2 years. You will be awarded with a Associate of Applied Science (AAS) degree.
What are the subjects you will be taught during your Associate level?
The program coursework includes the basic courses covered in certificate level plus:
business management
building and construction
remodeling theories
carpentry mathematics
co-work experiences and many more
3. Bachelor's Degree in Carpentry
Candidates seeking for a advanced career in carpentry can do a four year bachelor's degree.
What are the job duties of a carpenter?
The duties and responsibilities of a carpenter are as follows:
to construct frameworks
to make new design and blueprint
to measure dimensions and built the required foundation there.
to inspect floors, ceilings, tiles, etc
to design a given parameter
to cut or shape a material to the specified dimensions
to repair some damaged structures
to properly assemble the materials and give an appropriate idea on how to use the materials properly
to focus on safety of the user during the assembling of the structure.
What is the salary outlook of a carpenter?
Currently a carpenter can make up to $15- $21 /hour depending on the work place, experience, knowledge and education. This is not the end. You can make way higher after you gain a little experience and reputation. And wait, according to the U.S. Bureau of Labor Statistics the salary demand of carpenters is going to increase by 13% between 2008 to 2012. All the very best for your future.
Tips and suggestions:
Being physically fit is a key to success.
Taking Spanish class will aid your chances in getting a good job.
Always remember there is high risks of accidents in this field.
Always be prepared for the tensed situation.
Best Carpentry Schools in USA
Centura College, with campus locations in Virginia, South Carolina and Florida, is dedicated to helping students gain the skills and attitudes necessary to succeed. Drawing from over 30 years of career school experience.
Programs:
Building Maintenance and Repair