What Are the Pros And Cons Of Becoming A CNA?
Despite the great number of people who lament the day that they chose to become a Certified Nursing Assistant (aka CNA), this nursing career is nevertheless a prestigious profession, and we highly respect the CNAs for the job they do. However, we won't think it wise of you to sign into a CNA school just because your compassionate heart aches at the sight of sick & disable people and you feel like doing something for the betterment of their life. Questions like "what if you can't handle the CNA's job duties…what if you discover your passion is in another field?" should be thought over before you decide on the CNA career. To ease your decision, we have here compiled a list of the pros and cons of being a CNA.
# Pros Of Becoming a CNA:–Appeals Of The Nursing Career!  
1. Making A Difference In Other People's Life Is A Noble Thing To Do (Huh?)!
Recognized as the major workforce of the healthcare industry, the Certified Nursing Assistants are entrusted with the job responsibility of providing professional nursing services (like feeding, bathing, grooming etc.) to the ill and disable persons. In other words, as a CNA, you have to devote yourself to the service of the patients, helping them in every way possible in fundamental life chores to the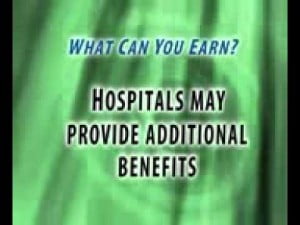 2. Becoming A CNA Is A Piece OF Cake (Short Training Period)!
Candidates pursuing the CNA career don't have to attain any time-consuming degrees, nor do they need to go through an excruciating training procedure. After all, there's really no such vast difference between the services of a CNA to the patients and that of a mother to her child. With just 2 to 8 weeks long CNA training program, you can finish the CNA training (both the theoretical and clinical course), and then get licensed from your state to get employed in the hospitals and nursing homes as a Certified Nursing Assistant.
3. Jobs For CNAs Are Found In Abundance, With Appealing Health Benefits!
The greater the number of patients in a hospital, nursing home or such old age homes, the higher the demand for the CNAs and their professional nursing services would be. Thus, with consideration over the ageing population (and the current CNAs being promoted to higher nursing posts like that of LPNs), we can assert with confidence that there will always be a job for the CNAs.
Likewise, it should also interest you to know about the health insurance policy that you get to enjoy as a crucial member of the patient care team.
4. Versatile Working Hours To Choose Between (Day, Evening & Night Shifts)!
Since the patients require 24 hour monitoring, the hospitals and nursing homes require the CNAs to work round the clock. But, seeing that one CNA cannot work continuously for 24 hours, the patient care facilities have organized their CNA staffs into different time shifts of 8 or 12 hours interval.
Thus, as a CNA, you may work in the morning shift (usually from 6 am to 2pm), or the day shift extending from 2pm to 10 pm or even the night shift, where you gotta walk around the patient ward from 10pm to 6am. Mind you, the private nursing homes may have their own time provisions, with 7, 9 or 12 hours working shifts.
# Cons of CNA Career:–Things We Hate About The CNA's Job!
1. It's A Hair-Pulling Mentally & Physically Challenging Job With Too Many Patients To Care For!
Earlier I told you about how similar the mother's and a CNA's job are. Well, I forgot to mention one point though– while mothers generally have to rear one (or two) child at a time, the CNAs are charged with the care of 10 to 20 adult patients. Imagine yourself in a room with a crowd of patients, all beckoning you for immediate assistance. It's certainly too much to handle for a single person.
2. CNA's Are Responsible To Clean Up All The Dirty Mess!
CNA schools may have gave you training on how to position the patient, how to transfer him from bed to wheelchair but they don't really train you, for whatever reason, about cleaning up the butts of the sick patients and those disgusting vomits.
And irritatingly so, some patients are not gonna say "May I go to toilet?" or you might be too busy with another patient to hear his/her toilet emergency. As a result, the patients would fall victim to the act of incontinency, ruing their clothes and the bed sheet too. Now, imagine who would be charged to clean up all this dirty mess? Of course, YOU!
3. Fraught With The Health Peril Of Becoming Infected From Patient's Diseases!
Getting a CNA license doesn't make you immune to diseases and infections and neither does it stop germs from attacking you. The health risk increases with the fact that CNAs have to be in direct contact with the diseased patients, not to mention all those dirty works that they have to do. Hence, there's no knowing when you may end up being infected by your patient's diseases, and become a patient yourself.
4. Bad Pay, Really Bad pay, Really Really Bad pay!
Considering all those demanding job responsibilities of a CNA, you might think the pay should be good but the health industry, it seems, has only a petty $25000 yearly salary to offer in exchange for all those physically and mentally challenging nursing duties.
5. Patients May File Lawsuits For Unintentional Accidents/Mistakes!  
The health risks are nothing to be fearful of for the CNAs since your employer does offer you a complete health insurance. It's rather the unjustified or seemingly cruel lawsuits that you have to fear, since some patients, in order to make some quick money, may file a case against you for malpractices.
6. CNAs May Even Have To Work On Weekends & Holidays!
In a worker's life, holidays are like a celebration…it's a time for respite and a time to spend quality time with your family. However, most CNAs don't even get to indulge in such common luxuries, since the disable patients require 24 hour care (don't worry, CNAs are only subjected to 8 or 12 hours working shift).
In fact, have you ever heard of such hospitals and nursing homes, which close for holidays and festivals? Probably, not! Hence, as the major workforce of the healthcare industries, CNAs may not get respite on holidays, and if you have sign up for an on-call job position, then expect to address hospital calls at weekends and  odd hours.
Best Schools Offering CNA Classes