Category Archives:
Business
Want to lead a multinational corporation in near future? Is this your career goal? Well then you will need to earn a MBA degree from an accredited institution. Earning a degree while working may not be possible with traditional on-site MBA programs; it is therefore an online MBA classes is introduced in the field.
An online MBA program offers flexibility to the professionals and gives them the opportunity to earn the degree from anywhere and at their own pace. Basically the online program is designed for those individuals with a busy schedule who cannot attend a traditional onsite MBA program. Meaning the online program is the best option to those with a family and a job responsibility.
What are the features of Online MBA Classes?
The first thing one needs to remember when it comes to an online MBA program is that the term online does not necessarily mean that it is completely online. At the end of the semester or once a week or so, students may need to visit the college premises.
Most of the communication takes place electronically. The didactic component of the course are presented via online means such as live video streaming, online lectures and discussions, group chats and live video chats. The online program creates a virtual classroom setting so that the students and the instructor can communicate with each other without any interruptions.
Another segment of the program requires students to visit the college premises or some college associated facility where an experienced and qualified instructor will present the practical component of the course. Here they will gain experiences working in a real life setting. Basically this portion of the program enables students to apply their learned skills in a real life scenario. In order to complete the program, students need to complete both the segment of the program with satisfying results.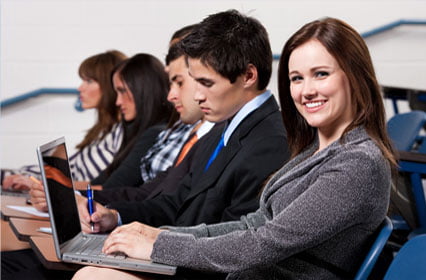 What are the courses offered in an online MBA program?
Although an online MBA program can be completed in less than 24 months, it does not necessarily mean that the courses are incomplete. You don't need to worry at all, you won't miss anything. A typical online MBA program will include the courses listed below:
Introduction to operations management
Communication for managers
Introduction for marketing
Introduction to Financial and Managerial Accounting
Applied Economics for Managers
Global Climate Change; Economics, Science and Policy
Business Principles and Understandings
Online MBA Program vs. On-site MBA Program: Which is better?
As already mentioned above, the main benefits of an online option over on-site MBA program is the flexibility it offers. It is nearly impossible to attain a campus based program while working or taking care of your family. If somehow you do manage to attain, the results will not be satisfactory because most of your learning time will be spent on either the official works or taking care of your family matters.
With the online option, you can easily manage your time because you won't have to visit the college facility regularly. Just turn on your computer and join the lectures or discussions at anytime and from any part of the world.
Compared to the onsite MBA Program, an online MBA program can be completed in as little as 24 months. Therefore the online programs are also called fast track courses sometime. This does not mean that you will miss anything important. It's just that the courses are designed that way so that one can complete the coursework in as less time as possible.
Although there won't be physical communications and interactions between the students and the instructor like in an onsite MBA program, students will have to submit the given projects and assignments regularly. It is equally important to attain a live video streaming or live online lectures and discussions couple of times. So it means that students need to follow some schedules and rules and need to be in discipline in an online option as well.
What are the requirements for being accepted into an online MBA program?
An online program requires students to have certain knowledge and skills on computer and internet. Although a technical support team will be available 24/7, it is important to have basic knowledge on computer troubleshooting. It is equally important to have a well configured computer with dedicated internet connection to have uninterrupted communication.
Since students will have to manage their own learning materials as well as the schedule, the online program demands some important interpersonal skills such as good at time management, self directive and independent qualities and punctuality. Lack any of these qualities; the online option is not for you then.
Finally it's the academic prerequisites. In order to be eligible to apply for an online MBA program, students need to have an undergraduate degree in the respective major. The academic performance is another factor that determines whether or not you are eligible for the program. A satisfactory GPA with grade C or better performance on the academic subjects mainly the business subjects strengthens your chance of acceptance in any online MBA program.
Additional requirements include a clean history i.e. without any criminal records and drug using. You may also be asked to submit a recent health check up record just to make sure that you do not have any contagious diseases.
Each state has its own sets of requirements and prerequisites when it comes to applying for an online MBA program. It is therefore a good idea to read the descriptions along with the program policies carefully before applying into any online program.
Free Online MBA Courses:  Is it possible?
Answer is yes, there are few universities that offer free online MBA courses to the students. Every courses are offered online and you don't have to spend a penny not even a registration is required. These types of options are targeted towards the self learners who can complete the course without any guidance and instructions.
Since it's an online option, one can complete the course from any part of the world and at their own pace. One popular institution that offers such courses is the MIT's Sloan School of Management.
Bottom Line
If leading a multinational corporation is really what you have decided as your career then applying for an MBA program is mandatory. And for flexibility, there is no better option than an online MBA program.
Best Schools Offering MBA Classes