Category Archives:
Carpentry Schools
What are the educational requirements prior to get admitted to a carpentry school?
The educational requirements that you have to follow prior to get admitted are:
You must be a US citizen and have completed 18 years of age.
You must complete your high school and have a high school diploma.
You should not have any criminal record or any illegal background.
You must complete drug screening test, and other simple medical tests.
You will be also judged on your reading and writing English abilities.
Simple  technical knowledge about the field such as safety practices during work, use of simple carpentry machines etc are also essential.
How to become a carpenter?
Step 1: Complete the prerequisites.
If you want to become a carpenter your journey should begin as early as from your high school. You should take subjects such as drawing, math's, shop, algebra, geometry, mechanical drawing, physics, blueprint reading in your high school. You should also complete all the educational prerequisites mentioned above
Step2: Complete the Apprenticeship training.
Search for the Apprenticeship programs offered in your areas. Such type of programs are offered by large construction based companies or also by some established schools or organizations.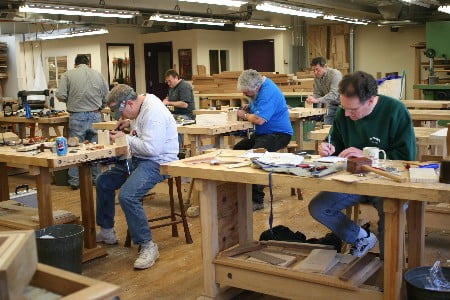 How long it will take to complete my Apprenticeship training?
It will take you about 2-4 years to complete your training. In each year of your training period you have to complete at least 144 hours of technical training and 2000 hours of practical training.
Step 3: Get some formal training through some vocational or trade schools.
After completion of the apprenticeship training you will be awarded a certificate as a journey person. You may now get a job or continue further education. If you wish to get further degree program, your next destination is schools that offer such program to offer you a degree of carpentry. You can get a certificate, associate or a bachelor's degree.
Can I complete my Carpentry classes online?
Yes, if you are a busy person or if you have problem attending to ground school, online schools are the best options for you. Yes it's a rare case to find online schools in carpentry, but here at onlineclas.com we have listed many schools that offer online courses. Grab the best opportunity.
Step 4: Get involve in some internship programs.
Step 5: Work as a carpenter.
What are the parameters you have to look for before joining any carpentry schools?
Research for good carpentry schools around your area.
Look for the course and curriculum the college is offering.
Look for the practical sessions the college is offering.
Quality of teacher matters a lot.
Always go for established institution.
Remember costly tuition fees and education is not the key always.
Seek an expert advice or advice of the seniors who are already studying there.
What are the different degree programs offered by such carpentry schools?
1. Certificate in Carpentry
As a entry level you can go for a certificate in carpentry degree. Remember this is just a entry level, and you still have to join a further degree program. A high school degree is required to enter certificate level. The duration of the certificate course is 1 year.
What are the subjects you will be taught during your certificate level?
The program coursework includes:
safety
framing
construction methodologies
cabinet making
interior design and finishing
estimating
blueprint reading
2. Associate's Degree in Carpentry
This degree program are intended for those who want to start their career as a finish carpenters, home remodelers, woodworkers or as framers. The course duration is 2 years. You will be awarded with a Associate of Applied Science (AAS) degree.
What are the subjects you will be taught during your Associate level?
The program coursework includes the basic courses covered in certificate level plus:
business management
building and construction
remodeling theories
carpentry mathematics
co-work experiences and many more
3. Bachelor's Degree in Carpentry
Candidates seeking for a advanced career in carpentry can do a four year bachelor's degree.
What are the job duties of a carpenter?
The duties and responsibilities of a carpenter are as follows:
to construct frameworks
to make new design and blueprint
to measure dimensions and built the required foundation there.
to inspect floors, ceilings, tiles, etc
to design a given parameter
to cut or shape a material to the specified dimensions
to repair some damaged structures
to properly assemble the materials and give an appropriate idea on how to use the materials properly
to focus on safety of the user during the assembling of the structure.
What is the salary outlook of a carpenter?
Currently a carpenter can make up to $15- $21 /hour depending on the work place, experience, knowledge and education. This is not the end. You can make way higher after you gain a little experience and reputation. And wait, according to the U.S. Bureau of Labor Statistics the salary demand of carpenters is going to increase by 13% between 2008 to 2012. All the very best for your future.
Tips and suggestions:
Being physically fit is a key to success.
Taking Spanish class will aid your chances in getting a good job.
Always remember there is high risks of accidents in this field.
Always be prepared for the tensed situation.
Best Carpentry Schools in USA
Thank you for sharing your preferences.
You can find other options through our sponsored listings below!
Search Sponsored Listings
Quick Fact
In 2017, workers with a bachelor's degree or higher had almost twice as much
median earnings per week than workers with only a high school diploma*.