Category Archives:
Culinary Schools
Learning the noble profession of the chefs is, it seems, not a child's play. If you ask a traditional chef how to become a chef ($40,000 to over $80,000 annual salary), he would probably tell you to get down to the kitchen & start playing with food ingredients. However, the modern chefs with academic training would encourage you for professional training and that's precisely what the following online culinary arts schools offer, albeit differently than the in-class cooking programs (expect video tutorials and in-home practice, with an externship at the end).
Brief Details of Top 3 Online Culinary Schools:– 
1. American Culinary Federation (ACF)
Would not it be better to get your online schooling from such a globally recognized culinary organization, which also happens to be the entity for regulating all other culinary schools? Yes, my friend, the American Culinary Federation is precisely that reputed organization, which incidentally has some online cooking classes boiling over the internet pan.
Quick Facts:–
ACF gives credit to organizations like "Chefs de Cuisine Association of America", the "Societe Culinaire Philanthropique" and "Vatel Club" for making it possible to run its excellent online cooking classes (as well as scholarship awards and apprenticeship courses).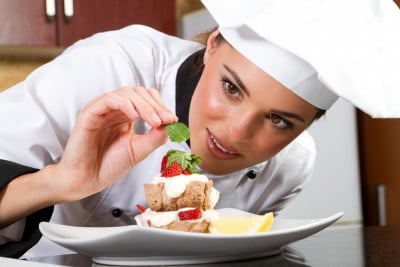 There's this Food Safety Program as well as a Hazard Analysis & Critical Control Point which are oofered for online students (especially to candidates with former culinary academic history).
You can think of these ACF online culinary courses as continuing education or marketability-promoting chef certifications.
Contact Details:–
Address:–180 Center Place Way, St. Augustine, FL -2095
Phone No.:–904-824-4468
Website:–www.acfchefs.org
2. Virginia College
While that online school of Epicurious is just "delicious" (even Jules Verne can't be disappointed with Epicurious' Around The world In 80 Dishes), we nevertheless can't help recommending the Virginia College for your online culinary training, since it offers academic degrees unlike Epicurious' great but non-credit 8 weeks classes for $49.
Quick Facts:–
Residing in Alabama State's Birmingham region, the Virginia College has bagged the accreditation from the venerable Accrediting Council for Independent Colleges & School. And, that's something to look for in online schools.
Virginia College offers it eLearners the chance to earn the Associate's Degree in Culinary & Pastry Arts through online schooling (Of course, you will have to leave your laptop at home and complete the externship in person!).
Only students with prior culinary education or diploma can be accepted for online schooling. And, of course, accepted students may get to enjoy financial aids or career placement services that Virginia College is respected for.
Students of this online cooking program are subjected to courses on food science, beverage service, culture & cuisine and so on.
Contact Details:–
Website:–www.vconline.edu
3. Le Cordon Bleu
We believe that the older a school, the better its academic excellence would be. Le Cordon Bleu, which was born over 100 years ago, does not disappoint our belief. And, oh, yes, it does offers online culinary programs for the interested kitchen-phile candidates.
Quick Facts:–  
Le Cordon Bleu thankfully has an online program, focused towards the Bachelor's degree in Culinary Management, which are of course open only to associate degree-holding culinary artists.
You will be subjected to managerial courses, implying organizational psychology, restaurant management, research, writing, financial management, etc.
The online bachelor's courses, which are led by Certified Master Chefs, can be completed in as little as 15 months.
The best thing about studying at Le Cordon Bleu, besides quality training, is the chance of getting recognized and even favored for employment by their 20 or so affiliated culinary agencies (such as that American Culinary Foundation).
And, of course, as any novel culinary schools, this one too has bagged accreditation from the US Department of Education.
Although you would be studying online, it would be good for you to know that Le Cordon Bleu has 16 satellite campuses to boast of, and they are scattered across different parts of the nation for student's accessibility.  Los Angeles, Boston, Atlanta, and Miami are just four such locations.
Contact Details:–
Phone No.:–1.888.557.4222
Website:–www.chefs.edu
Best Schools Offering Culinary Classes
Degrees offered include Bachelor of Science in Accounting, Bachelor of Science in Business Administration, and Master of Business Administration.
Students are instructed in relevant business skills like communication, mathematics, and management.
Coursework emphasizes the development of project management, communication, decision-making, and problem-solving skills.
Flexible, 100% online and campus based programs available.
Programs:
AAS in Business Administration - Hospitality Management
Nobody comes from their mother's womb with a cooking degree in their little hands…you have to earn it from the culinary schools, where professional chefs are waiting to teach you the varied aspects of culinary field, down from the basic knife works to the delicious blending of varied food ingredients, the so many food-cooking ways, the mindboggling thing about cooking temperatures and a delicious presentation. Now, if you are eager to explore the delicacies of commercial kitchens, then the following tips to find best culinary schools would certainly help you decide your alma mater.
Simple Tips On How To Find The Best Culinary Schools:–
1. Look For The Accreditation Flag Of American Culinary Foundation In Your Cooking School!
Only such culinary schools, which provide excellent cooking classes to their students, could get favored with the accreditation from American Culinary Foundation (ACF for short). No wonder, the culinary students have been suggested and even warned from time to time to receive their formal training through only the AFC accredited culinary schools.
In case, you could not get your hands on such AFC favored cooking programs, then make yourself happy with a regionally accredited culinary school (at least, ensure that your chosen school is in good grace of the US Department of Education).
2. The Older A Culinary School, The Better Would Be Its Reputation & Your Job Prospects!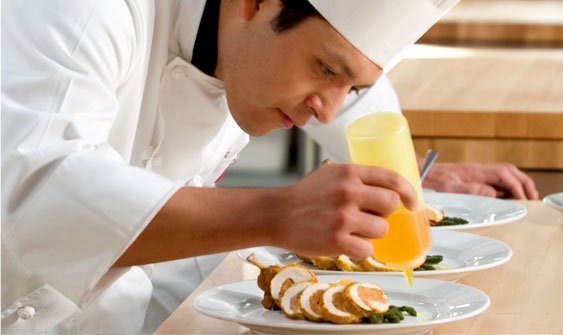 The appealing thing about these old culinary schools is their classical grandeur and, more importantly, the "vast alumni network" that they gain over years of schooling. What I mean to say is that, if a culinary school has been founded 30 or 50 years ago, then we can expect it to have 100s of ex-students, who may probably be working as executive chefs (they do the hiring) at some 2, 3 or even 5 star hotels & restaurants. Now imagine your chance of getting employed by such executive or sous chefs!
And, oh, it's also worth mentioning that the older culinary schools (like Le Cordon Bleu) have a better chance of being AFC accredited as compared to the new schools, which having just started may yet be unknown in most areas of the culinary industry.
3. Inquire About The Training Facility; See Whether It Has Up-to-date Kitchen Accessories!
The local eateries may not offer an array of modern kitchen utilities but the 5 star hotels certainly accommodate such luxuries, and thus, hoping that you will get to work in such big and modern kitchens, we recommend you to learn your culinary trade at such a school, which boasts of modern facilities. The downsides are the high cost of tuition that training at such schools with state-of-the-art culinary accessories will charge you and the fact that there's no guarantee that you would end up working in such luxurious hotels (after all, the competition is high, and it takes experience to get ).
4. Look For Hands-on Instructions; Culinary Schools Offering Students-Operated Restaurants Are Awesome!
Being a practical profession, requiring deftness in knife skills and intuition to the use of different food ingredients, the expertise of the chefs and culinary artists are marked by the level of their experience in the kitchen. The more you play with the food ingredients and kitchen accessories, the better your skills would get.
No wonder, students choose to enroll themselves at such culinary schools, which offer impressive hands-on training programs, like maybe an internship, externship or an apprenticeship. Furthermore, we find the student-operated restaurants a real mark of academic excellence, since students enrolled in such facilitated schools will be subjected to the reality of culinary professions, the hustle bustles of a commercial kitchen and the time-restrain of preparing customer ordered food really quick. What better way to get trained than through hands-on practice at such real-life restaurants.
5. Check Out the Affordability Of the Culinary Training Program!
You might be thinking that a good culinary school will probably be costly. But, despite this popular belief, there are such culinary schools, which do provide excellent culinary training for a small cost, and the best thing is that they do have accreditation from ACF. Just go and check out the program cost of the community colleges, and you will discover for yourself how affordable they really are (just $1000 to $2000 for local students).
All the same, it would be bias of us not to disclose that out-of-state students generally have to incur a higher culinary program cost, not to mention that even the local students would be required to pay a fee as high as $38,000 to 45,000 when enrolling at the private schools or vocational culinary institutions (do try your luck for scholarship and financial aids!).
What's more distressing is the fact that culinary artists have a really modest starting salary (just $8 to $12, gets better with field position and experience) which might not be good enough to pay back the student loans that they have taken for their professional schooling.
Best Schools Offering Culinary Classes
Degrees offered include Bachelor of Science in Accounting, Bachelor of Science in Business Administration, and Master of Business Administration.
Students are instructed in relevant business skills like communication, mathematics, and management.
Coursework emphasizes the development of project management, communication, decision-making, and problem-solving skills.
Flexible, 100% online and campus based programs available.
Programs:
AAS in Business Administration - Hospitality Management