Category Archives:
CNA Classes
Capital cities tend to attract the best educational institutions and health industries. Denver, which happens to be the capital of the Colorado State, too has its share of reputed nursing schools (where you will receive your certified nursing assistant training) and patient care facilities (where you will spend 8 to 12 hours shift working at a professional level…getting paid for around $22,000 to over $31,915 in average per year). But, for the moment, let's push aside these health care industries, and rather focus on the CNA classes in Denver, especially the approved ones.
Top CNA Schools in Denver (Programs With Colorado State Nursing Board Approval):–
When you are aiming for a career in the healthcare industry, it is always wise to enroll at state approved program.  That way, you can be certain of receiving quality education and also fulfill your state's health board requirements. For your convenience, we have here enlisted 3 of the best CNA programs of the Denver region, which have bagged the accreditation from Colorado's State Nursing Board.
1. Community College of Denver
Community colleges are renowned for their affordable academic programs, and quality network. This one, the Community College of Denver, long established more than a decade ago, offers the Nurse Aide training program for the interested students.
What You need To Know Of CCD's CNA Program:–
Even if you have a part time job to look out for, you may still be able to access the part time CNA classes of the Community of Denver.
Graduating from this nursing assistant certificate program will probably take you much as 7 weeks or less.
While the didactic classroom lectures and lab practices would be launched from 5 pm in the evening to 9:15 pm, you can expect the clinical hands-on training to occur on Sundays and Saturdays (probably from 6 am to 4:45 pm). However, the time schedule may be prone to change with every session.
"How much money do I have to spend for becoming a CNA?"– That might probably be the most important question for you. Hence, let it be known that Community College of Denver charges around $813 for the tuition fees while a additional sum of around $354 shall be paid for state exam, shoes, health immunizations and such course-related stuffs. In total, expect to pay $1167.
Contact Details:–
Address:– 1070 Alton Way, Bldg. 849, Denver, CO-80230
Phone No.:– (303) 365-8300
Website:–www.ccd.edu
2. Emily Griffith Technical College
Another state approved CNA program provider dwelling in the Denver region hails by the name of Emily Griffith Technical College.
What You need To Know Of EGOS' CNA Program:–
They tend to have small classes to improve the teacher student ratio, and the clinical lab is up-to-date with CNA training accessories for quality teaching.
Complying with the OBRA CNA education requirements, the Emily Griffith Tech College will have you drilling your brain on the theoretical and clinical courses for about 86 hours (might complete in 4 to 6 weeks considering your schedule).
Expect this 5 credit hours CNA program to take $460 from your for as its tuition fee. And, do also expect to pay additional sum for course related training materials.
Contact Details:–
Address:–1250 Welton Street, Denver
Phone No.:–720-423-4702.
Website:–www.egos-school.com
3. Stillwater College of Allied Health
Understanding the importance of the CNAs' nursing service for the patients, the Stillwater College has launched a flexible nursing assistant program that prides itself for being approved by the Colorado's state Nursing Board.
What You need To Know Of Stillwater College's CNA Program:–
You will utter a "wow" when you discover that the Stillwater College offers not only morning CNA classes but also launches Evening and Weekend SCNA training schedule.
While the morning (9am to 2pm) and evening (4pm to 9pm) CNA classes will be of 5 weeks' length, you can expect the weekend CNA classes (on Sundays and Saturdays…9am to 3pm) to go on for as long as 8 weeks.
Other than the flexible program hours, students would also cheer for the CPR training and other nursing related programs being offered by the Stillwater College (like that EKG training for instant).
Contact Details:–
Address:– 4155 E Jewell Ave #405, Denver, CO-80222
Phone No.:– (303) 753-7577
Website:–www.stillwatercollege.net
What Other State Approved CNA Programs Are Available At Denver?
Well, we might have omitted to tell you that there are currently around 13 or so approved CNA training programs running at the Denver region. Since, 3 of these reputed CNA schools have been mentioned, we hereby give you the name list of the other state approved nursing assistant schools (hopefully all have active accreditation…but do check at the official nursing board site for any changes; some CNA schools might lose their accreditation while new ones could be added to the approved list).
Accelerated Healthcare Institute
APL Medical Academy
CollegeAmerica – Denver
Community health Institute
Fred N. Thomas Career Education Center Middle College of Denver
National American University
New Beginning Nursing Assistant Program
St. Joseph Hospital Foundation
St. Lukes Ministry
Vista Academy Nursing Assistant Program
Best CNA Schools in Denver

Richmond, Virginia is yet another favorable destination in United States to start a CNA training program. The state board of nursing in Virginia approves the training program so you are sure to get all the necessary skills and experience needed to work at medical and health care faculties. The board is also responsible to conduct the CNA certification exam which is compulsory to take after completing the training program.
Here as well you will be surrounded by lots of options for your CNA trainings which include both online and onsite based programs as well as the free training programs. First let's discuss about the training options available. Every approved CNA training program in Richmond, Virginia should have at least 75 hours of trainings; it is mandatory.
Onsite and Online Based Options in CNA Training Program  
There are both online and onsite based option available for your CNA training and you can choose either of them depending on your needs. Online based programs offer flexibility and one can complete the program using online mediums. Then again, the term online does not mean that the program is completely online and that you are not required to visit the college premises at all. This is not possible because CNA is a practical subject and demands enough clinical hours in a real life setting.
Students can only complete the theoretical component of the course using the online mediums as for the practical component they need to attain regular classes that will be held either at the college facility or some clinical setting.  The onsite based programs on the other hand follows the traditional concept of teaching in which the coursework is offered though classroom interactions and clinical instructions.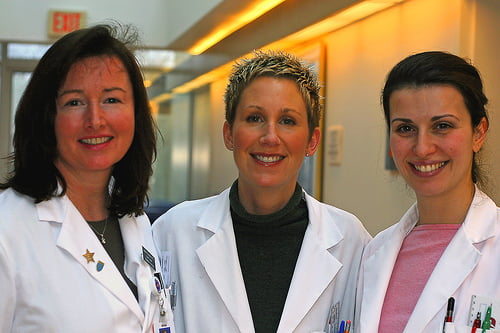 CNA Schools
The CNA training programs are offered at different vocational and technical schools as well as community colleges, high schools and nursing care facilities. There are both paid and free options available at these training institutes. At the paid options, students will have financial aid options as well as scholarship opportunities. Since there are many options to choose from for a CNA school in Richmond, Virginia; it is important you know the best CNA classes. Don't worry I have listed out some of the best ones below.
American Red Cross Classes
The CNA training programs at American Red Cross is regarded as one of the top training program in Richmond VA. Statistics show that most of the students completing the CNA programs from American Red Cross can pass the board certification exam with no difficulties.
The good thing about the training program is not only with the CNA classes but also the cost it charges. The CNA Programs at the American Red Cross are much affordable than both the private as well as public institutions. Once your training program is complete, you will be eligible to sit for the CNA certification exam which is compulsory for every individual to work as a professional nursing assistant in the medical field. Few of the students might also get the opportunity to work with Red Cross as a CNA.
Virginia Commonwealth University School of Nursing
It is the only school in Virginia that solely focuses on nursing. That is why the school is one of the best options available for your CNA training in Virginia. The state has made it mandatory to CNA schools to have at least 70 hours of training classes but here you will have 120 hours of CNA classes. This means you will get all the necessary experience to start your CNA career in the medical field and actually get success.
The CNA training program here at the Virginia Commonwealth University School of Nursing is clinical based so students are presented with most of the skills and techniques in a real life setting. They work with live patients in a real life scenario which help learn the very same skills from different prospective. Upon completion you will be eligible to sit for the state's certification exam in which most of the time students get encouraged and aids from the school.
Fortis College
Fortis College is yet another recommended option for students looking for an affordable CNA training program in Virginia. The college offers both onsite and online based programs in CNA both of which are state approved and accredited. So students from both the program will be eligible to sit for the board certification exam.
The college has its own clinical setting where students get engaged with live patients and learn all the necessary skills and techniques required for the career through real life experiences. Since the college has a long history of providing CNA training programs, every staff know what they are doing and how to handle their students. So with this college, you are sure to get the best CNA trainings the state has to offer.
The Bottom Line
Richmond is one affordable place throughout United States for your CNA training program. There are some good schools that offer one of the best trainings you can get for your CNA career. Still it is important to do your research before applying into any of the training program. So best of luck for that.
Best CNA Schools in Richmond, Virginia