Introduction To The State Approved CNA Classes in Indianapolis
In exchange for the valuable nursing services that the Certified Nursing Assistants provide to the sick & disable patients, the state of Indiana generously offers its Indianapolis-based CNAs a yearly salary of around $22,000 to over $30,000. Now, if you too have any intention of embarking a nursing career, then you better have a high school diploma and a clean criminal record so as to be qualified to enroll at one of these state accredited CNA classes in Indianapolis.
Introduction To The State Approved CNA Programs in Indianapolis IN:–
Aspiring nursing students would be glad to learn that the city of Indianapolis holds around 25 or so CNA schools, which are all graced with the accreditation from the state's nursing board.
The state of Indiana also understands that not every one of its citizens could afford the cost of the CNA training program, however low it be. Precisely for such budget-tight CNA wannabes, there are a number of free CNA classes out there in the city of Indianapolis. You should especially try your luck for scholarships in the CNA schools, and if it does not work, then look no further than the career training centers like Walker Career Center and the Golden Living Center.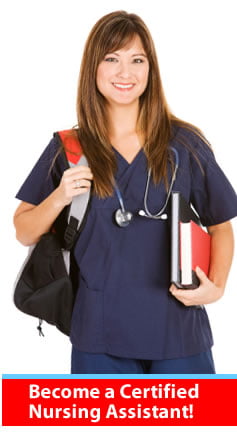 1. Ivy Tech Community College
When asked about a popular CNA school in Indianapolis, many will utter the name of Ivy Tech, not only because of its state approved CNA curriculum but also because it's a CNA licensure testing centre.
Quick Facts of Ivy Tech's CNA Classes:–
The Ivy tech Community College, in addition to the quality CNA program, also administers the Nurse Aide/Medication Aide Competency Exam at their facility. Hence, the students, who enroll here, would not need to go elsewhere for their state license.
CNA wannabes should apply for Ivy Tech's Patient Care certificate classes, which is viewed as a 19 credits long professional and technical program.
Ivy tech Community College is essentially a 2 year's institution, and hence it's not surprising for it to launch Associate's degree nursing programs, concentrating on LPN and Paramedic nursing professions.
This Patient Care nursing program of Ivy Tech will not only prepare you for CNA licensure but also qualify you for the Dementia Care Certification (via the Alzheimer's Association) as well as Home Health Aide Certification.
Contact Details:–
Location:–50 W. Fall Creek Pkwy N. Dr., Indianapolis, IN-46208 (Main Campus)| 9301 E 59th Street, Indianapolis, IN-46216 (Lawrence Campus)
Phone No.:–317-921-4800
Online Address:–www.ivytech.edu
2. Advance Healthcare Vocational Training
The city of Indianapolis also hosts the Advance HealthCare Vocational Training Centre, which too has the provision of running a CNA program, whose high quality curriculum has bestowed it with the state nursing board's accreditation.
Quick Facts of Advance Healthcare's CNA Classes:–
When compared to other state approved CNA programs in the Indianapolis city, it seems the Advance Healthcare centre has the lowest CNA program cost to boast of. You have to pay just $575 as a cumulative fee for your CNA tuition and CNA license test.
Being an accredited CNA program, the students upon their graduation would get to sit at the national nurse aide certification exam for acquiring license to work.
Out of the 105 credit hours, Advance Healthcare's CNA program organizes the 30 hours for classroom instructions and the remaining 75 hours to the clinical internship.
In just a matter of 3 weeks, the Advance Healthcare centre would have prepared you theoretically and clinically for the state CNA licensure test.
In addition to the nurse aide program, the Advance Healthcare Vocational Training also offers medication aide program to yield competitive nursing personnel for the healthcare industry.
Contact Details:–
Address:–6350 W. Haven Rd Suite E., Indianapolis
Phone No.:–317 (347-1550)
Website:–www.ahvitraining.com/
3. J. Everett Light Career Center
Indianapolis CNA wannabes also have the J Everett Light Career Center to undertake their professional training, with top notch nursing assistant curriculum to explore.
Quick Facts of J. Everett's CNA Classes:–
Students enrolled in J. Everett Light's CNA program can expect to attend 30 hours long didactic lecture classes along with a 75 hours long clinical internship.
This state approved CNA program would make the students explore the essential nursing assistant courses like the physiology & anatomy, human development, medical terminology, ethics and first aid skills.
To make their program more appealing, the J. Everett Light even provides their ambitious CNA students field trip opportunities at some regional healthcare settings. And, of course, you also get the chance to undergo CPR (i.e. cardiopulmonary resuscitation) training.
By the way, the J. Everett Light Career Center has also the provision of running both fulltime and part-time CNA classes. This way, even those job-holding CNA wannabes could attend quality nursing assistant training.
Contact Details:–
Location:–1901 East. 86 St., Indianapolis
Phone No.:–317 (259-5265)
Website:–www.jelcc.com
Best CNA Schools in Indianapolis