What Are The Job Responsibilities Of An Ultrasound Technician?
The inside jokes in the healthcare industry keeps referring to the ultrasound technicians (or should we say Diagnostic Medical Sonographers) as the "photographers" of the medical world. And, unlike most other hair-pulling medical jobs (poor CNAs), this technical post is surprisingly exciting (you will get to play with a big camera, I mean, the ultrasound machines). What's more, the ultrasound technician salary is even more exciting at around $54,000 average annual income (your max earning potentiality is no less than a hooping six figure salary!). Now, celebrations aside, let's hear what kinda job responsibilities an ultrasound technician gets burdened with.
General Job Duties Of An Ultrasound Technician:–
1. Capable Of Operating the Ultrasound Machines & Taking Sonograms of Patients! 
What's an ultrasound technician if he/she cannot handle the ultrasound machine? That's why every sonography students are subjected to intensive clinical internships and rotations in various hospitals and laboratories, where they get to play with the ultrasound machines and transducer until they master it.
Now the first job responsibility of ultrasound technicians is none other than operating the ultrasound machine to take sonograms of the patients' internal body parts, as directed by the doctor.
For your information, operating the machine includes procedures like hovering the transducer over the patients' to-be-scanned body part, applying gel on the scanning body part for clearer image, and generating detail sonograms.
Note:–Ultrasound technicians too have their own division, what with the 10 or so different sonography specialization fields.  Abdominal sonographers generate sonograms of the organs underneath your stomach while cardiac sonographers are liable to scan the heart's condition.
2. Preparing & Positioning the Patients in the Best Way Possible For a Sonography Session!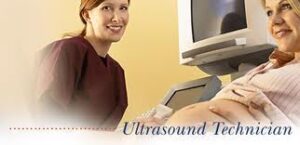 A skilled ultrasound technician must be able to generate clear sonograms of patient's internal organs. For this, he will be mentally challenged on how best to position the transducer or the patient on the bed, so that the best possible sonograms can be generated.
And, oh, it's also the responsibility of the sonographer to explain this non-intrusive imaging procedure to the fearful patient, so as to prepare him for a smooth sonography session. After all, you don't want your patient to hyperventilate at the sight of the transducer and what you might be trying to do with it.
3. Ability To Read the Sonograms Perfectly & Pinpointing out Abnormalities If Seen!
A god sonogram gives details of the scanned body part, telling the skilled ultrasound technician of the working conditions of the scanned organs, whether it is normal or abnormal.
In other words, this is where your knowledge of anatomy and physiology would be put to trial. The sonogram that you have generated should inform you about the health condition of the scanned body organs.
4. Documenting the Findings on the Patient's Sonograms for the Inspection of the Physician!
Using correct medical terminologies, you will have to document your findings. The doctor will want to know both the normal conditions of the scanned body organs, as well as the abnormalities that you have pinpointed.
And, while presenting the documented result, don't hesitate to speak your personal suspicions of patient's health condition, and make sure that the physician gets to inspect an accurate sonogram (videotapes may sometimes be required top) for diagnosis.
Traits That Ultrasound Technicians Should Develop:–
Although this position is not often physically taxing, you might find yourself not getting to relax your leg for hours. Normally, the working period is estimated at 8 hours but some facilities may have you in a 12 hours long shift. (You might even have to respond to calls.)
You must adopt good communication skills and patience (anger towards patients is prohibited). Adapt yourself to work easily with any type of patients– young and old, black and white or male and female.
Like most of the medical job positions, ultrasound technicians too have to prepare themselves mentally for working under stressful environment and with physically/mentally ill patients.
Ultrasound technicians must be fluent with medical terminologies, and be able to work solo as well as in co-operation with fellow medical staffs like doctors and nurses.
Above all, a skilled sonographer must guard his emotions well. The patient's sonogram may enlighten him of some serious internal damage but the technician should not disclose such "oh no, you have only a few days to live!" kinda bad information to the patients (you don't wanna crush the patients' recovery hopes).
Top Ultrasound Technician Schools
Online bachelor's programs include BBA, Criminal Justice, IT, Healthcare Management, Pscyhology & Public Health
Over 115 years of delivering quality education and personalized attention to students
We're now Non-Profit.
Programs:
Specialization in Nursing Informatics (MSN)