Online CNA Classes:–Are They Effective?
No matter what your parents, elders or seemingly wise critics (like us) may remark about the online CNA programs, remember that you would have the final say in deciding whether you should pursue the "over the internet" education system or not. We, for our part, love that "study whenever and wherever you like" aspect of the online CNA classes, not to mention the low tuition fee that it charges.  However, the more we think of CNA online programs, the more doubtful we become of its effectiveness.
Why Won't We Vote For Online CNA Programs?
1. Factors Like Motivation & Peer Pressure Are Missing In Online CNA Programs!
In the brick-and-mortar CNA classes, you will have friends who care for (or envy) your progress as well as professors who will scold you if you're late and correct you when you're doing it the wrong way. These traits of regular CNA programs motivate you towards the course, and peer pressure keeps you eager to excel in the field.
But, sadly the online CNA programs don't posses such prized factors for a better student life. Hence, without peers to communicate and compete with, a lone online student could easily lose his motivation to study, and thus may drop out in the middle of the online schooling.
2. Asynchronous Nature of CNA Classes Might Make You Lazy!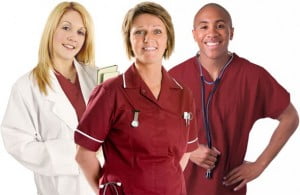 The greatest advantage of the online CNA programs can also be their greatest disadvantage. You see, the online classes let you study anytime of the day and anywhere you like.
It suggests that you may access the online class late in the night or early in the morning, thus making it possible for you to do a part-time or fulltime job. However, this freedom at study is criticized highly because students mind can get diverted with the work (unless it's a nursing job) or in other recreations.
3. Online CNA Programs Don't Usually Offer Clinical Internships!
If you entertain any notions about getting to complete the clinical training through your laptop, then you are a fool. The bitter truth about the online CNA programs is that they only let you cover the theoretical portion through the online teachings (using video lectures, tutorials, website content), The clinical portion of the CNA training has to be completed by your personal attendance in a patient care facility.
Now, the sad news is that most online nursing programs only offer the theoretical teachings, and dump you without any clinical internship. Only a couple of accredited online CNA instructors are reliable to offer you clinical internship or an on-the-job training at physician's office or long term healthcare centers.
4.  State Accredited Online CNA Programs Can Be Rarely Found!
Graduating from a CNA program does not qualify you for employment. To get a job, passing the national nurse aide certification exam, and getting the state CNA license is of the utmost importance. Employers would only favor such CNAs who have their name registered in the Nurse Aide Registry.
Now, you might not know this but the nursing boards seem to ignore the online CNA programs. Precisely for that reason, we don't see much state accredited online CNA programs. Let's just hope that the state you reside at favors online CNA programs.
The Verdict:–It's Not 100% Effective!
There's a vast difference between saying "… not effective" and "… not 100% effective".  Putting the term "100%" expresses that while the CNA online programs may not be 100% effective, there's a small chance that it could be 50% effective. In fact, there are those successful CNAs, who had obtained part of their training online, and now are leading a smooth job at some patient care facilities.
Conditions That Makes Online CNA Schooling Effective:–
State Required Credit Hours:-
The Online CNA program you apply for must have the provision of offering full theoretical and clinical credit hours. The federal nursing laws demand that the CNAs be trained for at least 75 credit hours, but you can expect the variation in individual state laws (the CNA schools might require you to complete 120 to 180 hours long nursing coursework)
Fixed Scheduled Programs:–
The thing with the online programs is that you can easily get bored with it, what with the lack of classmates and flesh-&-blood professors, who corrects you when you're doing it the wrong way and scolds you when you are late for the class. Therefore, the self-paced programs, which give you liberty to finish the CNA coursework at your own pace, are not worth applying for. Instead, you should vote for a time-constrained schedule that requires you to finish the online teachings in a certain time (say in 2 weeks) and then calls you at a patient care facility to complete your clinical internships personally.
Your Dedication to Study:–
You might be aware of the saying "where there's a will, there's a way". Well, it simply means that if you dedicate yourself wholly to your online CNA program (like regular attendance of live lectures and interacting with your online lecturer), then home study is worth every penny.
Best Schools Offering CNA Classes
Gain Knowledge and Skills While You Earn Your Nursing Degree at Fortis!
Programs:
Patient Care Technician
Medical Assisting
Medical Assisting - Diploma
And more...
Get the hands-on training and skills it takes to succeed with Ashworth College, a respected, worldwide leader in distance education. Study at the times and places most convenient for you.
100% Online & No Standardized Testing
We are committed to helping you achieve your goals and complete your degree as quickly as possible.
Programs:
Master of Science in Nursing: Nursing Administration
Master of Science in Nursing: Nurse Educator
Northcentral University was founded in 1996 to provide working professionals around the world with unprecedented access to richly engaging, professionally relevant, and academically-rigorous education from a U.S. university.
As a regionally accredited, private, online and graduate-focused university, NCU offers doctoral, master's and bachelor's degrees in business, technology management, education, and psychology, as well as doctoral and master's degrees in marriage and family therapy.
Programs:
Doctor of Education - Nursing Education
There's still time to apply to Grand Canyon University and pursue your education. Learn more today!
Study on your schedule - GCU offers many programs 100% online to fit your busy lifestyle.
GCU offers a variety of opportunities to reduce the cost of furthering your education. Campus students may qualify for scholarships, while online students can take part in limited special offers.
A regionally accredited university, GCU also holds specialized accreditations and approvals for some of our core program offerings.
Degrees in business, education, nursing, humanities and social sciences, theology and more. Find the degree that fits you.
Talk to us today to learn more about financial aid and start dates!
Programs:
Doctor of Nursing Practice with an Emphasis in Educational Leadership
Pursue your education at Ohio Christian University. Take classes online or on campus. Pursue your degree to help you start the career you want. Learn more now.
Programs:
Bachelor of Science in Nursing (BSN)
As few as 20 months
Nursing@Simmons enables Registered Nurses to earn an MSN online from Simmons College and prepare to pursue certification as a Family Nurse Practitioner in as few as 20 months.
Programs:
MSN - Family Nurse Practitioner
RN to MSN - Family Nurse Practitioner
Designed with the needs of working adult students in mind, South University, Online Programs is built on the similar curriculum offered at South University's campus locations. As a student at South University, Online Programs you will receive the same quality instruction, variety of learning options and level of service found at the campus locations.
Programs:
Nursing (RN to BSN)
RN to Master of Science in Nursing with a specialization in Family Nurse Practitioner (RN-MSN)
Post Graduate Certificate in Nursing with a specialization in Adult-Gerontology Primary Care Nurse Practitioner
And more...
CTU can help you connect to what matters most: a powerful professional network, faculty who are real-world professionals and innovative technology. And now several CTU degree programs are ranked by U.S. News Best Online Programs for 2015. Are you in?
Programs:
Master of Science in Nursing - Nursing Administration
Recognized by the U.S. News and World Report for: Best Online Programs, Bachelor's 2017, Best Online Programs, Grad Education 2017 and Best Online Programs, Bachelor's for Veterans 2017
Programs:
RN-BSN (Bachelor of Science) - Online