Top 3 State Approved CNA Classes in Knoxville TN
Wearing the title of the Certified Nursing Assistant (aka CNAs) in the Knoxville County will get you rewarded with an annual income of around $17,000 to $29,000, and that's just for upholding the simple, albeit exhausting, patient care duties. Now, provided that you are willing to commit to such a physically & mentally challenging nursing profession, then you better start doing your research on the 8 Tennessee nursing board approved CNA Classes in Knoxville, 3 of which are listed here for your convenience.
Top 3 State Approved CNA Classes of Knoxville, Tennessee:–
Since the nursing board of Tennessee state tends to comply with the federal CNA licensing regulations, it's no surprise that the CNA schools of Knoxville requires their enrolled students to undertake at least 75 hours long nursing coursework.
Of course, most Knoxville-based CNA classes do take the liberty of determining their class length, but you can be certain of at least 16 hours of classroom instruction (on communication skills, infection control, emergency procedures etc.) while clinical training on at least 25 competency skills is also mandatory for every CNA students to qualify for the Tennessee state certification exam.
1. Knoxville Red Cross CNA Certification Program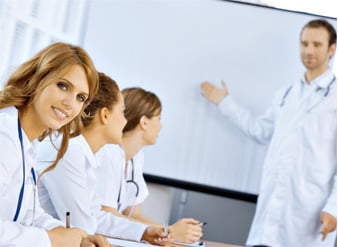 There might not be any great difference between CNAs trained through the regular CNA programs and that from the Red Cross Chapters, since both have the same nursing assistant training coursework. However, employers tend to have developed favoritism to the Red Cross CNAs, choosing them over others. Hence, if you care to see a bright career, then look no further than the CNA program of Knoxville Red Cross Chapter.
Quick Facts of Knoxville's Red Cross CNA Certification Classes:–
The Knoxville Red Cross Chapter's CNA classes are well equipped with all nursing supplies and a high quality curriculum to prepare you for the state licensure exam.
In order to make their CNA program accessible to the job-holders and time-constrained people, this Red Cross CNA program launches both day time classes as well as an evening time track.
If you enroll for the day CNA training track then be prepared experience a 5 weeks long training coursework. Likewise, the evening CNA classes continue for an extended time period of 7 weeks.
Contact Details:–
Location:–1610 East Magnolia Ave., Knoxville, TN-37917
Phone no.:–865-584-2999
Online Address:–www.knoxarc.org
2. Tennessee Technology Center at Knoxville
Yet another state approved CNA program of Knoxville County hails with the name of Tennessee Technology Center.
Quick Facts of Tennessee Tech Centre's CNA Program:–
It too prides itself for the accreditation from Tennessee's Department of Health, and guarantees its enrolled students the eligibility to sit for CNA license test (tat's after you graduate successfully).
Interested candidates can apply for either the day-time (8 am to 2:30 pm) or the night-time (i.e. 5:30 pm to 9pm) CNA classes of Tennessee Technology Center.
I might also confide about the slight difference in the training hours between the day and night CNA program track. You see, the day track is only 108 credit hours ling, progressing from Monday to Friday, but the night CNA track is 126 hours long, progressing from Monday to Thursday.
Enrolled students can expect to undertake subject courses on medical terminologies, patient care, ethics, infection control, anatomy & physiology and post-mortem care.
Speaking of clinical internships, the day time CNA students should expect an 18 hours long clinical training while those of the night track are subjected to 24 hours hands-on training.
You can benefit from Tennessee Tech. Center's high quality CNA program for just a cost of $425.
Contact details:–
Address:–1100 Liberty St., Knoxville, TN-37919
Phone No.:–865-546-5567
Website:–www.ttcknoxville.edu
3. Goodwill Industries-Knoxville
Established to help people with employment barriers, the Goodwill Industries has received licensed from the Tennessee High Education Commission to run its post-secondary education programs, which thankfully also includes a state approved CNA program.
Quick facts of Goodwill Industries' CNA program:–
Thanks to its state accreditation, this CNA program lets its graduates to sit for the Tennessee CNA certification exam.
With an experienced Registered Nurse leading the class, you can be certain of getting an intensive didactic classroom experience, after which you can expect clinical rotations in a patient care facility of your locality.
In addition to the day time CNA classes, Goodwill Industries, in an attempt to show a goodwill behavior to the time-constraint or job holding nursing aspirants with their provision of evening CNA classes.
While the state regulation requires only 75 hours long CNA training program, Goodwill Industries tends to subject their students to a 192 hours long CNA coursework.
This state approved CNA programs comes with an affordable $690 program cost. All the same, you should try your luck for the financial aids and scholarship awards offered by Goodwill Industries.
Contact Details:–
Location:–P.O. Box 11066| Knoxville, TN-37939
Phone No.:–865-588-8567
Online Address:–www.gwiktn.org
Some Other State Accredited CNA Program Providers of Knoxville County:–
Shannondale Health Care Center
Fulton High School
South-Doyle High School
Tennessee State Veterans Home
Compassionate Care Technical Center
Best CNA Schools in Knoxville