All You Need to know About CNA Classes in Michigan
Unlike most of the career options in the medical field, CNA career does not require years of education and training instead you can complete a state approved training program within weeks and get a license and start working with patients right away. Now each state has quite a number of options available when it comes to CNA classes and among them one popular destination is Michigan. So how are the CNA classes in Michigan? What are the requirements you need to fulfill in order to join the CNA classes there? Let's discuss them and more here.
Education and Training
The state has made it mandatory that every CNA training program within the state should include at least 75 hours of training. So every accredited training institutes in Michigan offers CNA classes with at least 75 hours of training and since it's a practical based program emphasis in given in clinical instructions and experimentations.
Onsite and Online CNA Classes
Both onsite and online options are available for your CNA training program in Michigan. Additionally daytime and evening options are available in the campus based training programs. There are even those accredited institutes that offer part time and full time CNA classes to the students. The onsite training program follows the regular traditional concept of teaching in which students need to visit the college premises regularly to attend the classes. Students learn the trainings and skills through classroom interactions, clinical instructions and internships.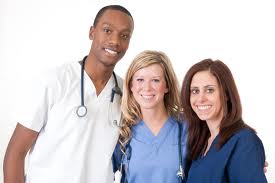 Online CNA Classes
The online option however is quite different but does not necessarily mean that it is completely online and that the students do not need to visit the college premises at all. Since CNA education demands extensive trainings and skills in a clinical setting and is more practical based, it is only the theoretical component of the course that is presented via online means and mediums which includes scheduled video streaming, live chats, online lectures and discussions.
It is during this time, students can attend the class from any part of the word and at anytime. Students discuss and learn theories on human health, anatomy and physiology, medical terminology and medical ethics and policies. Once this component of the program is completed, the clinical component begins in which students must attend the class which could be in the college facility or a clinical setting.
This is when students learn the key components of the courses and are prepared to work with the patients. Normally the practical component of the course is presented in a real life setting where students can experiment and apply their skills learnt during the first segment of the program.
The topics discussed and presented during this segment of the program includes basic nursing care and skills, personal care like mouth care, nails and hairs, dealing with wounds, burns and bleedings, bathing and toileting, mechanical and manual lifts, taking temperatures, hydration and nutrition, walker and cane assistance and standard as well as universal precautions. All these skills and techniques are first demonstrated by the instructor and then you will be asked to perform those same techniques on your own. You will get personal attention from the instructor so she/he will guide you on every procedure until you are ready to do it on your own.
Students who have completed both the segment of the program with satisfactory results will receive the academic certificate from the institution and will be eligible to sit for the certification exam. Once you passed the state certification exam, you will receive a licensure and then you can work as a professional in any medical care facility.
Are there any financial aid options available in Michigan for CNA education?
Well this depends on the type of institution you have chosen for your CNA education. Every community college within Michigan offers some sort of financial aid options to the deserving students but the private institutions may not. So there is no guarantee that you will get financial aid options in a private organization. Therefore it is recommended to read the descriptions and policies carefully before applying into any of the organizations.
I heard that Red Cross offers free CNA training program in Michigan, is this true?
Yes, it is. The Red Cross in Michigan offers CNA classes free of charge. The training program can last between six to twelve weeks and during this time; students are prepared professionally for the CNA career. I would not say that the CNA classes from Red Cross are completely free because after completion of the training program you will have to work for them for definite period of time free of cost.
What are the requirements one needs to satisfy to join a CNA program in Michigan?
Not every institute will have the exact same requirements and prerequisites so it's important to read the descriptions properly before applying into any of the training program. But there are few of the requirements that are common in most of these training institutes, I have listed them below.
Applicants must be at least 18 years of age and should have a high school diploma or equivalent GED.
Only those applicants who have completed the criminal background check and a drug test will be eligible for the program.
Applicants should be in good health condition and are required to submit a health report proving that they do not have any kinds of contagious diseases.
Applicants should have a genuine interest in public health care and support and needs to prove this to the institution.
Applicants should pay for the application form and are required to submit all the documents along with the application before dead line.
Wrap Up
There is no denying that CNA career is a promising career in these hard economic crises. The training program costs less since it does not last long as compared to other training programs related to medical field. Among many options, Michigan could be the perfect place for your CNA classes, so do consider it before taking the final decision.
Best CNA Schools in Michigan