CNA Classes In RI
Just some 80 hours long didactic lecture classes plus some 20 hours clinical hands-on practices, and voila, you are a Nursing Assistant…with only one more thing to do i.e. get a state license and become a Certified Nursing Assistant acceptable for employment. Well, that's how the Nursing Board of Rhode Island describes the education requirements of a CNA. Now, if you seem excited by this short term CNA schooling (as well as by the annual RI CNA salary is around $21,000 to over $30,500), then have yourself enrolled for CNA classes in RI, especially in schools with over 100 hours nursing assistant curriculum.
Some Popular CNA Program Providers In Rhode Island:–
1. Community College of Rhode Island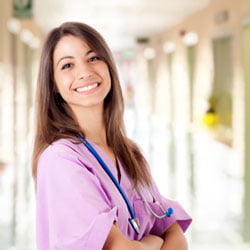 Many students, inspiring to be a CNA, flock to the Community College of Rhode Island, which runs a comprehensive nursing assistant training program (approved by the Workforce Investment Act as well as by the Adult Skills Training).
Besides the standard CNA program, CCRI will soon enough also offer a PACE CNA Program, meant for the jobless adults. This program will be around 200 hours, and will have the participants exploring the basic adult education (reading, writing and such basic stuffs) and then have them progress towards the actual CNA program (120 hours).
Quick Facts about the CNA Program Of CCRI:–
While the standard CNA course is just 100 hours long, the CCRI adds a few more hours to give an intensive training to their CNA students. You can thus expect 120 hours of CNA curriculum, completed generally in 6 to 10 weeks.
The didactic class lectures, which will be around 88 hours long, shall cover subject matters such as basic rehabilitative services, nursing skills, resident's rights, personal hygiene and emergency procedures. (Classes are held in CCRI as well as Westerly Tower Street Community Centre)
Likewise, students shall also have to spend 32 hours in a nursing facility to gain hands-on skills.
To meet your busy life schedule, CCRI has established the provision of running CNA classes not only in the day (Monday to Thursday from 9am to 1pm), but also in the evening (3 days per week, from 5pm to 9pm) and at weekends too.
Upon the completion of the program, you can then challenge the state nursing aide exam to have your name added in the RI Nurse registry. Additionally, graduates can also apply around 6 credits for the RDTC (Renal Dialysis Technology Certificate) program.
The program will cost you around $750 but be prepared to pay for additional fees.
Contact Details:–
Address:–1762 Louisquisset Pike, Lincoln, RI-02865
Phone No.:–401-333-7000
Website:–www.ccri.edu
2. Aquidneck Island Adult Learning Centre
Another popular CNA program provider of Rhode Island goes with the name Aquidneck Island Adult Learning Centre. It's based in the Middletown, and has the following program features.
Quick Facts about the CNA Program Of AILAC:–
Their CNA classes are actually operated through the Kennedy School (this Middletown-based school is currently enrolling students for their Spring CNA classes).
To speak of the class schedules (which changes often), this spring you will be attending the CNA training for 3 days every week i.e. on Monday, Tuesday and on Wednesday.
AIALC does offer versatile schedules i.e. both day and evening classes. But, currently in the spring session, the CNA wannabes have only the day time (9 am to 1pm) training session to attend at the Kennedy School.
In total, this CNA program shall have you incur a cost of $530 (includes text books, as well as state licensing fee).
Contact Details:–
Address:–740 W Main Road– Kennedy Annex, Middletown, RI-02842
Phone No.:–847-7171
Website:– www.aialc.com/
3. Cranston Alternate Education Programs
Operated through the Cranston Public School, and affiliated with various nursing facilities, this CNA program is offered as a part of the Cranston Alternate Education Programs.
Quick Facts about the CNA Program Of CAEP:–
This CNA program complies totally with the state requirements, by subjecting its students to a nursing curriculum of mandatory 100 hours length.
Class schedules are meant to change every session, and currently CAEP launches didactic lecture classes on Monday and Wednesday (on evenings, from 5:30pm to8:30pm). By the way, the clinical classes may be scheduled on Sundays & Saturdays as well as on day and evening hours.
You can expect to have your CNA training to progress for around 14 to 16 weeks.
The standard cost of this CNA program is just $680, but be prepared to blow extra dollars for immunizations and state licensure test fee ($134).
And, of course, you also have the option to sign up for additional nursing courses like that CPR training program (costs $45) and the Alzheimer Training program ($75 to get this optional certificate).
Contact Details:–
Address:–4 Sharpe Drive, Cranston, RI-02920
Phone No.:– 401.270.8166
Website:–http://aep.cpsed.net/
 CNA Schools in RI