Brief Introduction to the Top CNA Classes in Wisconsin State
While it's sad to hear about Wisconsin Nursing Board's blatant distaste to the online CNA classes, there are nevertheless a wealth of regular CNA schools and Red Cross CNA classes in the Wisconsin state. Now, if you count yourself as a compassionate person, willing to devote yourself to the betterment of the sick patients' life, then it's time you apply your name for enrollment in one of these top CNA classes in Wisconsin, and thus kickstart your prospective career as a Certified Nursing Assistant with earnings of around $19000 to over $35000 per annum.
Brief Introduction to the Top CNA Training Classes of Wisconsin State:–
The best thing about the hereby mentioned CNA programs is the accreditation that they have bagged from the Division of Quality Assurance. It implies that once you have finished the training course, which is generally 120 hours long, you will then be qualified enough to challenge the state CNA certification exam.
1. Red Cross CNA Classes In Wisconsin
The American Red Cross Society, which is renowned globally for its humanitarian works,  do also launch excellent CNA training classes via some of their selected Red Cross Chapters. Thankfully, the state of Wisconsin too has 4 such Red Cross Chapters, which offer state approved CNA programs.
American Red Cross Chapters With Provision For CNA Training Program:–
Oshkosh Chapter:–Located in Oshkosh, this Red Cross Chapter offers it CNA program, 120 hours in length, for just a price of $800.
Lakeland Chapter:–This Red Cross Chapter, based at Green Bay, too offers a 120 hours long CNA coursework, for a sum of $800.
Waupaca Chapter:–Boasting a 100% pass rate, the CNA program of Waupaca Chapter too is 120 hours long, with $800 program cost.
Western Wisconsin Chapter:–While the aforementioned Red Cross Chapters charge $800, this Altoona-based Chapter advertizes its CNA program cost at just $750.
2. Free CNA Classes in Wisconsin:–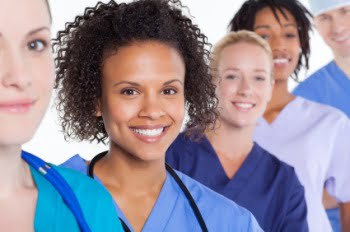 Even though the CNA programs in Wisconsin state are known to charge a low tuition cost of just about $300 to $600, there may still be some financially backward people, who are not in any condition to afford the cost of CNA training. Precisely for such poor yet ambitious nurse aspirants, the State of Wisconsin has encouraged a small number of free CNA programs into existence.
Where Can You Receive CNA Training For Free?   
Central WI Centre For The Developmentally Disabled (130 hours CNA coursework)
Mendota Mental Health Institute (132 hours CNA coursework)
Waunakee Manor Health Care Center (120 hours CNA coursework)
St Mary's At Felician Village (132 hours CNA coursework)
3.  Aurora Health Care
What better way to get your CNA training than through a reputed healthcare facility…yes, my friend, the Aurora Health Care, being a network of 15 healthcare facilities, has all the resources and some appealing facilities to help train you in the best way possible.  No wonder, it's state-accredited!
Quick Facts of Aurora's CNA Program:–
The CNA program offered in Aurora health Care is a community-based program, which will train you on all aspect of CNA job responsibilities, from the daily patient care services to the vital status monitoring and post-mortem care.
Aurora Health Care demands from its accepted students a $615 bill ($500 for tuition fee & $115 for CNA state certification exam) on the first day of their training session.
Classes generally progress from 7:30 am in the morning to 4 pm in the evening, with the program length being expressed at a consecutive 15 weekdays.
Demanding a perfect attendance from their students, the Aurora Health Care prepares their students theoretically and clinically for the state CNA certification exam.
If you care to receive your CNA training from the Aurora Health Care, then submit an early application. There's a mandatory information session that you must not be late for.
Contacts Details:–
Address:–750 W. Virginia St., P.O. Box 341880, Milwaukee, WI-53234
Phone No.:– (920) 456-7494
Website:–www.aurorahealthcare.org/
4. Madison Area Technical College
CNA wannabes of the Madison area (yep, that's the capital of Wisconsin!) should look no further than the Madison Area Technical College, which also happens to have satellite campuses in Fort Atkinson, Portage, Reedsburg, Traux and Watertown.
Quick facts of Madison A. T. College's CNA Program:–
It's essentially a 3 credit diploma program, which runs for approximately 120 hours, giving students didactic lecture classes and clinical experience.
Thanks to the accreditation from the Wisconsin's health department's Division of Quality Assurance, the graduates of this CNA program will be welcomed to sit for the state certification exam to earn their CNA license.
Madison's state approved CNA classes, which is designed to yield adept nursing assistants capable of handling dementia patients, can be joined for a small sum of $400 only.
The CNA training classes of Madison Area technical College opens every fall, spring and winter.
Contact Details:–
Location:–3550 Anderson Str., Madison, WI-53704
Online Address:–www.matcmadison.edu
Phone No.:–608-246-6100| 800-322-6282
5. Amber House Inc
Priding themselves on their quality patient care services, the Amber House Inc too offers a state approved CNA program, and since its located in Milwaukee (Wisconsin's largest city), there would be plenty of CNA opportunities for you to grasp.
Quick facts of Amber House's CNA Classes:–
Established over a decade ago in year 2002, this Amber House Inc's CNA classes are reckoned to be 120 hours in length.
Accepted students of the Amber House Inc's CNA program should expect to submit a payment of $915 for their professional training.
While the didactic classroom sessions would subject the students to lectures, practical demonstrations, quizzes and audio-visuals, the clinical portion, on the other hand, would have them learning the CNA job responsibilities under the supervision of a RN.
In addition to the general CNA coursework, students can also apply for their continuing healthcare education like that on CPR training, or you may also think about gaining a home health care certification.
Contact Details:–
Address:–7414 W. Hampton Ave., Milwaukee, WI-53218
Phone No.:–414-393-9922
Website:–www.amberhouseinc.com
Best CNA Schools in Wisconsin State