Tips For Ultrasound Technician to Increase Their Salary:-
Young people of the tech-savvy generation, passionate about getting a job in the health industry, will probably relish the title of the Diagnostic Medical Sonographers. Dubbed ultrasound technicians, these sonographers not only get to play with the interesting ultrasound machines but are also among the lucky chaps of the health industry to reap a handsome salary, the average of which is quoted at $54,000 p.a. (highest is marked at around $90,000 p.a. but can earn more).
Tips To Earn A Huge Ultrasound Technician Income:–
1. Get That Prestigious ARDMS Certificate Immediately To Become A Registered Sonographer!
Of course your ultrasound school must have taught you a great many things, from the complex human anatomy to the simple ultrasound machines, and the best ways of taking photography, I mean, sonography shots (beware; the patients may not react well to "Say Cheese").
But all those intensive ultrasound trainings won't pay up well, if you don't have your name registered in the American Registry of Diagnostic Medical Sonographers.
Only when you have successfully undergone an oral/written and practical examination would you be rewarded with the coveted ARDMS certificate, and your name will appear on the American sonographers' registry.  That done any employers would welcome you with open arms and a handsome paycheck.
Reports estimated that while the lucky ultrasound techs, with ARDMS certificate, make around $29 per hour while those without have to deal with an hourly wage of $11-$20.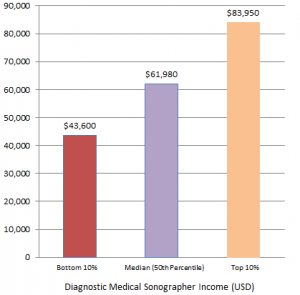 2. Learn The Varied Payments Offered By Varied Ultrasound Industries!
Of course, you'd think that the surgical & medical hospitals (privates are much better than government hospitals) are your best chance of employment, and admittedly these health facilities do employ the majority of ultrasonographers, but you will have a more convenient job in either a Physicians' office or at the outpatient care facilities.
Ultrasound Professional Schools, Colleges & Universities–$74,540 p.a.
Outpatient Care Facilities–$72,470 p.a.
Physician's Office–$66,050 p.a.
Hospitals–$65,870 p.a.
Medical Laboratories–$63,920 p.a.
3. Bigger Sonography Degree For Bigger Job Prospects!
The majority of newly trained ultrasound technicians naturally come out of their schools with an associate's degree in their hand, for the simple reason that getting associate's degree does not take more than 2 years and also because most ultrasound jobs are open to associate's degree holder.
However, there is now a crowd of associate's degree holding jobless sonographers, and thus it would be wise of you to cut off the competition by getting the Bachelor's degree in sonography. With this bigger degree, you can be qualified to higher paying jobs like that of a managerial position, earning a six figure salary.
4. Be Thoroughly Aware Of Different Ultrasound Specialties, Their Salary & Career Prospects!
The sonography technology, in the old days, may have been limited to obstetrics and gynecology section but now it has now fully fledged into a giant technology, opening 10 or so different specialization fields for the ultrasound wannabes.
Popular Ultrasound Careers With Yearly Salary Earnings (In Average):–
OB/GYN Sonography– $70,000 p.a.
Abdominal Sonography– $69,000 p.a.
Cardiac Sonography– $74,540 p.a.
Neurosonoraphy– $62,000 p.a.
Vascular Sonography– $68,000 p.a.
Breast Sonography– $67,000 p.a.
 5. Grab Licenses For Multiple Specialties!
Can you handle two different ultrasound specialties…or will three specialties be adequate? You see, there's even a provision for applying to multiple ultrasound specialties, although you have to retrace back your step and again get enrolled for an accelerated program to be trained for your next specialty.
The idea behind earning multiple specialties is simple, which is to say that an employer is likely to keep a multi-specialty ultrasound technician than hiring two different technicians. The salary would of course be provided befitting your higher potentiality.
6. You Might Need To Settle At One Of The High Paying Countries!
Other than the job facility, the geographical region does also play a huge role in determining "how much does an ultrasound make". It's a pity that Alabama ultrasound techs are rumored to earn the lowest salary of around 49,910 p.a. On the other hand, you should consider yourself lucky if you are a resident of one of these high-paying states:–
California (CA)–$81,750 p.a.
Oregon (OR)–$80,190 p.a.
Massachusetts (MA)–$79,650 p.a.
Colorado (CO)–$79,540 p.a.
Connecticut (CT)–$79,060 p.a.
7. Experience, Experience and Experience!
Whatever be the field of work, experience counts the most; ultrasound jobs are no exception. At first, the newbies with no experience have to cope with a modest salary figure (around $54,000) but the more the years you spend working as an ultrasound technician, your salary gradually rises to break beyond $100,000 per annum.
No Experience Or 1 Year Exp–   $24,700 to $60,140
1-5 Years Exp–   $30,440 to $64,430
5-10 Years Exp–    $43,000 to $77,440
10-20 Years Exp–  $44,220 to $88,410
Above 20 Years Exp– $48,100 to $103,560
Top Ultrasound Technician Schools
Sorry, we could not find any matching schools