Ultrasound Technician Schools in Ohio
High-school graduates, who wish to become Diagnostic Medical Sonographers, should sign up for a comprehensive associate's/bachelor's level training program at one of the approved ultrasound technician schools in Ohio. Commonly known as the ultrasound techs, these medical technicians operate sonography equipments and delve in the art of non-invasive disease diagnosis. While the profession is exciting in itself, the state of Ohio does also offer an attractive ultrasound tech salary figure of anywhere between $44,550 to over $73,000 per year.
What Are the Popular Ultrasound Tech Schooling Options In Ohio State?
1. Kettering College of Medical Arts
Well, it's not the only sonography program of the Ohio state but it's nevertheless a highly popular one. Popular because it's the only sonography school in the entire Ohio region to launch bachelor's degree sonography programs…Add that CAAHEP's accreditation, and there you have a must-enroll ultrasound school.
Quick Facts:–
We did mention that Kettering College offers bachelor's level sonography program, but did we say that it also runs associate's degree ultrasound programs too?
Qualified students, eyeing either the Associate's or bachelor's degree education, will have 3 different sonography concentration programs to choose from…General, Cardiac or Vascular sonography!
While the 1st year will have the students completing the prerequisite courses, the 2nd year will just introduce them to the ultrasound technology. It's only in the 3rd year that didactic sonography classes will start, with the 4th year generally focused on delivering clinical externships to the students.
Kettering College has the habit of charging $399 for every credit hours (clinical instructions will require another $200 per semester).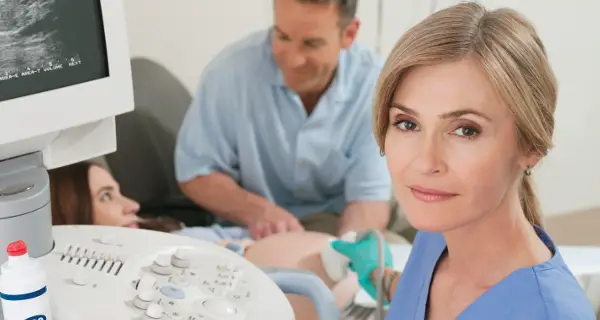 Contact Details:–
Address:–3737 Southern Blvd., Kettering, OH-4542
Phone No.:– (937) 395-8628 |(937) 395-6614
Website:– www.kc.edu/sonography
2. Central Ohio Technical College
Residing at an hour's distance from downtown Columbus, the Central Ohio Technical College comfortably stands in the Newark town, flashing enrollment options for technology-savvy students. The good news is that it does also offer sonography technology programs…CAAHEP accredited, of course!
Quick Facts:–
Considered as the standard qualification for an ultrasound technician, the Associate's degree in Sonography is available at the Central Ohio Tech College.
Accepted students have 2 sonography majors to choose from– either the General concentration program (say hello to abdominal and OB/GYN sonography) or the Cardiovascular sonography program (learn about your heart and blood vessels).
Naturally, the sonography associate's degree programs are of 2 years in length, during which period you will receive didactic classroom lectures, quality time at the sonography lab (6 scanning stations) and clinical rotations in ultrasound facilities.
While the residential students would get to enjoy the sonography programs for $2800 (that's for summer semester 19 credit hours), the non-residents have to incur a higher fee (around $115 per credit hour).
Contact Details:–
Address:–1179 University Drive, Newark, OH-43055
Phone No.:– (614) 292-4094 | (740) 366-9285
Website:–www.cotc.edu
3. University of Rio Grande
The University of Rio Grande, which happens to be the largest sonography school at the Rio Grande region, boasts of its excellent financial aid services (scholarships, work-study, grants) but that's not what     versatile sonography programs that have the CAAHEP's approval stamped on them.
Quick Facts:–
At present, only the Associate's degree sonography programs have the approval of CAAHEP. So, don't get fooled by advertisements claiming University of Rio Grande's Bachelor's degree/certificate sonography programs are CAAHEP accredited since they are not (for now).
Just like the Central Ohio College, the University of Rio Grande too offers 2 different sonography majors for the applicants; you can choose either the General Sonography or the Cardiovascular Sonography program track.
While the 1st year of the Associate's degree sonogrpahy program would require around 30 credit hours general coursework teachings, the 2nd year will have you spend 40 credit hours (43 for general program track) in specialty-focused sonography classes, lab instructions and clinical rotations (day or evening shifts).
Per credit hour fee can be $109 or $129 depending on your residence. In other words, you may have to pay a tuition fee of around $19,970 in average.
Contact Details:–
Address:–PO Box 500|218 N. College Ave, Rio Grande, OH-45674
Phone No.:– (800) 282-7201| (740) 245-7139
Website:–www.rio.edu
# Other CAAHEP Accredited Ultrasound Technician Schools & College of Ohio:–
Do you feel it inconvenient to enroll at the above mentioned CAAHEP accredited sonography schools? Whatever, be your answer, it's all the same better to learn about the remaining CAAHEP accredited ultrasound programs of Ohio State, and here they are:–
Owens Community College (Toledo, Ohio)
Mercy Medical Center (Canton, Ohio)
Cincinnati State Technical Community College (Cincinnati, Ohio)
Lorain County Community College (Elyria, Ohio)
Collins Career Center (Chesapeake, Ohio)
Sanford Brown College (Middleburg Heights, Ohio)
Cuyahoga Community College (Parma, Ohio)
Why CAAHEP Accredited Sonography Programs?
Experience makes us recommend that only those sonography schools, which have bagged the accreditation of the Council for Association of Allied Health Education Programs, are seemingly best for pursuing the a lucrative profession of the ultrasound technician.
You see, a sonography school has to maintain high quality curriculum to be worthy of this accreditation. It means that you will be getting the best training possible from such CAAHEP approved sonography programs.
Likewise, the CAAHEP accredited sonography programs are also the key to unlock the door of American Registry for Diagnostic Medical Sonography. You have to pass their ARDMS certification exam in order to enlist your name in their globally recognized sonography registry. Beware…a Registered Sonographer has better job opportunities and salary figure than a normal ultrasound tech. So, you got to be one too!
Best Ultrasound Technician Schools in Ohio