Where Can Ultrasound Technicians Work? Areas & Fields For An Ultrasound Technician!
Dominating the medical field of disease diagnosis, the ultrasound technicians with their technical expertise have proven to be a pure relief for the ailing patients as well as the ever busy doctors. No wonder, the health industry, by flashing an enticing six figure ultrasound tech salary, keeps yelling out encouragement for the young & ambitious people to pursue this lucrative career. It's surprisingly exciting for a medical job, what with its playful technical job environment to appeal any tech savvy people.
Brief Introduction To 8 Versatile Specialization Fields For Ultrasound Technicians:– 
What was once only limited to the obstetrics and gynecology field has now developed into an advanced technology, with diverse concentration areas to speak of.  Yes, my friend, ultrasound technology now has around 8 or so different specialization areas for the interested candidates to choose from.
1. OB/GYN Sonography:–
History tells us that the opening ceremony of ultrasound technology was done at the obstetrics and gynecology ward, where this non-intrusive technology proved fruitful at aiding in the quick and efficient diagnosis of the female reproductive system. Those who specialize in this field get to enjoy a salary of around $50,000 to beyond $80,000 per annum.
The OB/GYN Sonographers are also trusted with the job responsibility to monitor the growth of the fetus (the unborn child) for earlier detection and possible treatment of abnormalities. Of course, you can also discover whether it's a boy or a girl via ultrasound technology.
2. Abdominal Sonography:–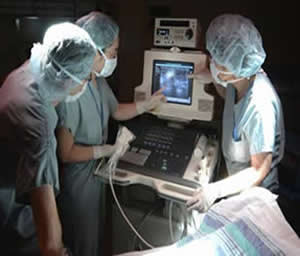 The other popular field of ultrasound, offering salary of around $55,000 to beyond $73,000 annually, is the abdominal sonography. And, needless to say, its practitioners are entrusted to generate accurate sonograms of the abdominal organs like, you know, the kidney, liver, pancreas, spleen and gall bladder.
3. Breast Sonography:–
What with all those breast cancers occurring in this modern time, it was just a matter of time before the ultrasound technology opened its breast sonography concentration field. Breast sonographers, enjoying a yearly salary figure of around $62,000 to over $80,000, are entrusted with the job responsibility to generate in-depth sonograms of women's breast, and ensure whether the via-mammography detected breast lumps are just a benign cyst or cancerous tumor.
4. Neurosonoraphy:–
Likewise, there's also a separate field, called neurosonography, for the diagnosis of mental diseases. The neurosonographers, enjoying a salary of around $65,000 to beyond $91,000 per annum, will focus their expertise at detecting abnormalities in the brain or the nervous system.
5. Vascular Sonography:–
Another well known field of ultrasound technology is the vascular sonography, which deals with the monitoring of blood vessels, i.e. you know, arteries and veins. Generally, the vascular sonographers have the earning potentiality, starting from around $37,000 to beyond $68,000 per annum.
6. Echocardiography:–
It does not matter whether you call it echocardiography or the cardiac sonography, for the name neither changes the lucrative income ($74,000 to as much as a six figure salary) nor its application, which is to scan the image of the human heart for diagnosis its condition and pinpointing out the heart related problems.
7. Ophthalmologic Sonography:–
While ophthalmologists can certainly earn a good income of around $300,000, report says that ophthalmologic sonography specialty can "alone" yield a yearly income of about $33,000. Now, as the name suggests, this ophthalmology ultrasound is all about detecting the abnormalities of the eye tissues. This sonography field also helps the physicians to insert prosthetic lens in the eyes of the patients.
8. Musculoskeletal Sonography:–
Considered a young field of ultrasound technology, the musculoskeletal sonography was introduced to aid the doctors in determining the cause of physical ailments. In other words, this sonography field studies the condition of bones, tendons & muscles of our body, yielding the practitioners an average salary of around $60,000 per annum.
5 Major Industry Platforms For Ultrasound Technicians' Expertise:–
Once you have graduated from a CAAHEP accredited ultrasound program and passed the ARDMS certification exam with flying colors, only then should you dare to knock on the doorways of the ultrasound employment providers.
1. Medical & Surgery Hospitals:–Like any healthcare practitioners, ultrasound technicians can too see the hospitals as the most common platform for their work. They would be employed as an integral part of the patient care team, helping the doctors in the disease diagnosis field. This entry level job at the hospitals is reported to offer an average salary of $65,870 p.a.
2. Outpatient Care Facilities:–Where there are patients, there is job for ultrasound technicians. And, that means the outpatient care facilities can't help but take talented ultrasound technicians on their payroll (as of 2013, average is $72,470 p.a.).
3. Medical Laboratories:–Ultrasound technicians are equally welcomed to work at the medical laboratories or the diagnostic centers, wherein they get to relish an average yearly income of around $63,920 p.a.
4. Ultrasound Professional Schools, Colleges & Universities:–When you have gathered enough field experience and achieved the master's level sonography education, you may then be certified to work as licensed instructors in the sonography schools, colleges or universities. The academic world boasts of the highest ultrasound tech income at $74,540 p.a.
5. Physician's Office:–Ultrasound technicians can also try their luck at the physician's private clinics, where they are sorely needed for assisting the physician's in quick diagnosis. Reports establish an average salary of $66,050 p.a. for ultrasound techs working in physician's offices.
Top Ultrasound Technician Schools
Sorry, we could not find any matching schools