Online culinary schools are educational institutions that offer culinary arts programs and courses through an online platform. These programs allow students to learn about culinary arts and food preparation from the comfort of their own home or other location, rather than attending classes on a physical campus.
Online culinary schools may offer a variety of programs and courses, including certificate programs, associate's degrees, bachelor's degrees, and master's degrees in culinary arts. These programs may cover a wide range of topics, including cooking techniques, food safety, menu planning, nutrition, and food service management. Some online culinary schools may also offer experiential learning opportunities, such as internships or externships, to give students hands-on experience in the culinary field.
Online culinary schools may be a good option for individuals who are unable to attend a traditional culinary school due to location, schedule, or other constraints. However, it's important to carefully research and compare different online culinary schools to ensure that they are reputable and offer a high-quality education.
10 Reasons to Choose an Online Culinary Schools
Flexibility: One of the biggest advantages of an online culinary school is the flexibility it offers. You can study at your own pace and on your own schedule, making it easier to fit your education around your other commitments.
Convenience: Online culinary schools allow you to study from anywhere, as long as you have an internet connection. This means you don't have to worry about commuting or relocating to attend classes.
Cost-effective: Online culinary schools are often more affordable than traditional programs. This is because you don't have to pay for things like transportation and housing, which can add up quickly.
Wide range of programs: Many online culinary schools offer a wide range of programs, from culinary arts to pastry arts to culinary management. This means you can find a program that fits your career goals.
Practical experience: Many online culinary schools offer opportunities for hands-on learning, such as internships or externships, to give students practical experience in the field.
Networking opportunities: Online culinary schools often have a strong sense of community, with forums and other resources for students to connect and network with each other.
Experienced instructors: Online culinary schools often have experienced instructors who are experts in their field and can provide valuable insights and guidance.
Accreditation: Many online culinary schools are accredited by professional organizations, such as the American Culinary Federation, ensuring that the education you receive is of high quality.
Career support: Many online culinary schools offer career support services, such as resume writing and job search assistance, to help students find employment after graduation.
Continuing education: Online culinary schools often offer continuing education opportunities, allowing you to stay up-to-date on the latest trends and techniques in the culinary industry.
Learning the noble profession of the chefs is, it seems, not a child's play. If you ask a traditional chef how to become a chef ($40,000 to over $80,000 annual salary), he would probably tell you to get down to the kitchen & start playing with food ingredients. However, the modern chefs with academic training would encourage you for professional training and that's precisely what the following online culinary arts schools offer, albeit differently than the in-class cooking programs (expect video tutorials and in-home practice, with an externship at the end).
Brief Details of Top 3 Online Culinary Schools:– 
1. American Culinary Federation (ACF)
Would not it be better to get your online schooling from such a globally recognized culinary organization, which also happens to be the entity for regulating all other culinary schools? Yes, my friend, the American Culinary Federation is precisely that reputed organization, which incidentally has some online cooking classes boiling over the internet pan.
Quick Facts:–
ACF gives credit to organizations like "Chefs de Cuisine Association of America", the "Societe Culinaire Philanthropique" and "Vatel Club" for making it possible to run its excellent online cooking classes (as well as scholarship awards and apprenticeship courses).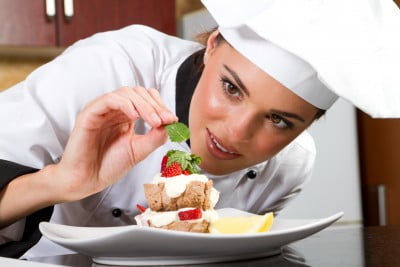 There's this Food Safety Program as well as a Hazard Analysis & Critical Control Point which are oofered for online students (especially to candidates with former culinary academic history).
You can think of these ACF online culinary courses as continuing education or marketability-promoting chef certifications.
Contact Details:–
Address:–180 Center Place Way, St. Augustine, FL -2095
Phone No.:–904-824-4468
Website:–www.acfchefs.org
2. Virginia College
While that online school of Epicurious is just "delicious" (even Jules Verne can't be disappointed with Epicurious' Around The world In 80 Dishes), we nevertheless can't help recommending the Virginia College for your online culinary training, since it offers academic degrees unlike Epicurious' great but non-credit 8 weeks classes for $49.
Quick Facts:–
Residing in Alabama State's Birmingham region, the Virginia College has bagged the accreditation from the venerable Accrediting Council for Independent Colleges & School. And, that's something to look for in online schools.
Virginia College offers it eLearners the chance to earn the Associate's Degree in Culinary & Pastry Arts through online schooling (Of course, you will have to leave your laptop at home and complete the externship in person!).
Only students with prior culinary education or diploma can be accepted for online schooling. And, of course, accepted students may get to enjoy financial aids or career placement services that Virginia College is respected for.
Students of this online cooking program are subjected to courses on food science, beverage service, culture & cuisine and so on.
Contact Details:–
Website:–www.vconline.edu
3. Le Cordon Bleu
We believe that the older a school, the better its academic excellence would be. Le Cordon Bleu, which was born over 100 years ago, does not disappoint our belief. And, oh, yes, it does offers online culinary programs for the interested kitchen-phile candidates.
Quick Facts:–  
Le Cordon Bleu thankfully has an online program, focused towards the Bachelor's degree in Culinary Management, which are of course open only to associate degree-holding culinary artists.
You will be subjected to managerial courses, implying organizational psychology, restaurant management, research, writing, financial management, etc.
The online bachelor's courses, which are led by Certified Master Chefs, can be completed in as little as 15 months.
The best thing about studying at Le Cordon Bleu, besides quality training, is the chance of getting recognized and even favored for employment by their 20 or so affiliated culinary agencies (such as that American Culinary Foundation).
And, of course, as any novel culinary schools, this one too has bagged accreditation from the US Department of Education.
Although you would be studying online, it would be good for you to know that Le Cordon Bleu has 16 satellite campuses to boast of, and they are scattered across different parts of the nation for student's accessibility.  Los Angeles, Boston, Atlanta, and Miami are just four such locations.
Contact Details:–
Phone No.:–1.888.557.4222
Website:–www.chefs.edu
How does online culinary school work?
Online culinary school is a type of educational program that allows students to study culinary arts and hospitality management through an online platform. These programs typically include a combination of interactive coursework, video lectures, and hands-on learning experiences.
In an online culinary school program, students can expect to learn about a range of topics, including culinary techniques, food safety, menu planning, and kitchen management. They may also learn about the business side of the culinary industry, including marketing, finance, and customer service.
Online culinary school programs may be self-paced or follow a more structured schedule, with students working through a series of courses and assignments over a set period of time. Some programs may also include opportunities for students to gain practical experience through internships or other hands-on learning opportunities.
Overall, online culinary school can be a convenient and flexible way for students to pursue a career in the culinary arts, allowing them to study at their own pace and from the comfort of their own home.