All You Need to Know About CNA Classes in Indiana
Like in many states you will need to complete an approved CNA training program and a CNA certification exam to work as a nursing assistant in Indiana. Recent statistics have shown that the demands for medical personal have been increasing at high rates every year and this includes the nursing assistant as well. To meet those demands, the state has offered more opportunities to the CNA students like scholarships, grants, internships and job placement guarantees.
CNA Training Program in Indiana  
Indiana has a whole list of CNA training programs ranging from onsite based program to online based program. There are also some free CNA training programs in Indiana. What is so good about CNA training program in Indiana? You might be wondering this, well there are quite a few of them but the best if probably that it is not mandatory to have a high school diploma to join a CNA training program.
Online vs. Onsite Based CNA Training Program
The CNA training program itself is not entirely different than those in other states. Here as well the clinical component is given more priority both in onsite as well as online based program. This also means that an online program is not completely online. Actually it's just the didactic component of the course that is presented using online mediums and this is the only part of the program that can be completed from anywhere and at anytime.
Onsite based programs on the other hand are held at the college facility and clinical settings so there is no involvement of online mediums. Students need to attain the regular classes and are given regular assignments. They learn all the skills and techniques from direct involvement with the instructor and real patients. What I am pointing out here is that it's better to apply for onsite based programs than the online based ones as the subject CNA is practical based and demands more clinical works.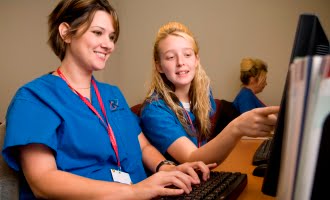 Then again it does not mean that online based programs are not worth it. They do have their own benefits and features and offers an excellent option to those with busy schedule or those with families and job responsibilities. Online students do gain enough clinical works and hands on experiences but in case of the theoretical component of the course there will be no direct involvement of an instructor.
Also do keep in mind that the online based program is not for everyone. The program demands some interpersonal skills like being good at time management and self motivated personality. This is because online students need to manage and collect their learning schedule and materials on their own. Besides that, online students should also have basic knowledge on computer and internet.
Free CNA Training Programs
As for the free CNA training programs, I would not tell it's free. Although you won't need to pay for the tuition fee and other academic charges, you need to work for them as a CNA after completion of your training program. However it is not for lifetime, you will be asked to work for definite period of time and normally you won't be offered the expected salary.
Some popular organization offering such free CNA training programs are Red Cross Society and Golden Living Center. However students do need to satisfy few requirements so do read the descriptions and polices properly before applying into any of these programs.
Affordable Options for your CNA Trainings
If you looking for affordable CNA training program in Indiana then it's the public organizations you need to search first. Compared to the private institutions, the public organizations offer low cost CNA training program in Indiana. Students can also have more financial aid options in these public institutions including scholarships, grants and student loan options. But there is an issue, in most of the public institutions; the number of students is quite large so it is impossible to get personal attention from the instructor.
While at the private institutions, the tuition fee may be higher but students can get individual attentions from the instructor. Besides that these private institutions offer more clinical hours and internship opportunities during the training program. Graduates are also aided for the certification exam and also to find a decent job after completion of the training program.
Duration and Cost of a CNA Training Program
Every approved CNA program in Indiana has at least 180 hours of academic activities which includes 20 hours for clinical activities and the rest 90 hours for classroom instructions. The total cost for the training program varies with institutes and the study plan you choose and may cost from $800 to $3,000.
Requirements to Satisfy
Like I said in order to qualify for a CNA training program in Indiana students need to meet certain requirements first. These requirements are not the same in every institute however in all institutes you will be asked to go through federal and background check and then a physical exam failing at either of these test may result to ineligibility for the CNA training program.
Other requirements include a valid state ID, a Social Security card, GED certification or high school diploma, fluency in English and effective communication skills. Students may also be asked to prove that they have genuine interest in public health and care.
Licensing and Certification  
The certification like in many states is compulsory in Indiana as well. Students must take and pass the CNA certification exam conducted by the Indiana State Department of Health to work as a professional CNA in a health care department. The exam like in every state is composed of written or oral test and practical skill test which is held at a clinical setting under the supervision of an experienced medical personal as the examiner.
After getting a passing mark in the certification exam, you will then be awarded by a state approved CNA license valid for certain period of time. So you need to renew and verify your CNA license regularly if you wish to work as a CNA continuously.
The Bottom Line
If you are looking forward to join a CNA training program in United States then Indiana is one good option available. With scholarships options and several other financial aid options, the state has gained quite popularity among the students these past few years. The employment outlook upon completion of the training program looks promising and rewarding. So from our side, Indiana is a recommended place to start a CNA training program.
Best CNA Schools in Indiana